Perth will be seeking more revenge when the top two teams meet at the Vector Arena tomorrow night.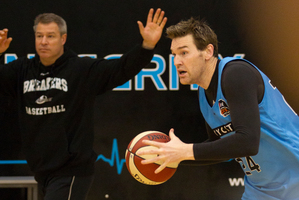 Looking back at the box scores from the Breakers' two previous clashes with Perth this season, it is difficult to determine why this rivalry is so fierce.
Both games saw the West Australians edge in front early before blowing out the Breakers - by 21 points on the North Shore in November, then by 25 in Perth a month later.
If a rivalry involves a competition for superiority in the same field, it's hard to see much competitive about those two encounters.
But these two teams, first and second in the Australian NBL, have history extending beyond this campaign - and it's that history which will leave the Breakers intent on handing out a hammering of their own at Vector Arena tomorrow night.
The Wildcats are the most successful club in the history of the league, with five championship banners hanging in the rafters at Perth Arena, but the Breakers have ended their last two seasons en route to consecutive titles.
Last year's grand final series was particularly acrimonious and, by the looks of Perth's form in their match-ups this season, the Breakers' triumph irked the men from the wild west.
They have sought and claimed an element of revenge, and will continue to do so should the sides do what most expect and set another date for the grand finals in April.
But this week it's the Breakers seeking vengeance, with veteran forward Dillon Boucher leaving no doubt of the animosity involved when the heavyweights meet.
"I wouldn't say it's a friendly rivalry - it's a rivalry," he said. "They're a team that want to come out and prove we shouldn't have beaten them in those finals. They've got a point to prove, there's no doubt.
"And they've beaten us twice this season, so we've got a point to prove as well. Any time you've got two teams out there trying to prove a point there's going to be some fireworks."
Boucher was unconcerned about the nature of his side's two defeats to Perth this season, saying the Breakers' nine-game winning streak shows they are a different proposition from earlier in the campaign.
"Those games were a long time ago, we're probably a different team to what we were," he said. "Most of the times [Perth] beat us it's when we haven't played well.
"You give them credit - it's because of what they've done - but, for us, you never want to finish a game thinking you've played well and lost. We know that if we play well and we stick to what we've been doing well over the last few weeks then we'll come away with the win."
With another trip to Perth scheduled for March, the Breakers have an outside chance of squaring the season series. They would need to make up 46 points - something Boucher thinks they "can definitely do" - but that possibility is more a point of pride than being imperative.
Of more importance will be the desire to take at least one win from the season into a potential finals series - though coach Andrej Lemanis was unequivocal in denying the game was must-win.
"I'm not the sort of guy who likes to put more on one game than any other game," he said. "What happens if we lose? We stop playing?
"As a club we understand that if you put too much on any one game, if you win you can get too over-excited and if you lose it can be too depressing."
With that said, it's hard to imagine anything more depressing for the Breakers than this rivalry again turning into a Perth rout.
Breakers' record v Perth
Played 35, won 16, lost 19
This season
R1: Breakers 72 Perth 93
R8: Perth 89 Breakers 64.
- APNZ