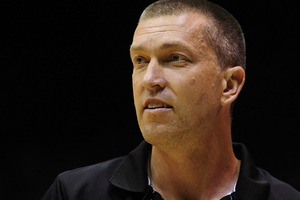 The Breakers have achieved so much over the past three seasons another club record beckons without barely a mention.
Tomorrow night they are chasing an eighth-straight win, when they host the Sydney Kings, which would equal the club's best winning streak set in the 2010-11 season. A win would also see them notch 100 home wins since entering the Australian league in 2003-04.
"It means it's one more than seven," coach Andrej Lemanis said matter-of-factly of the prospect of equalling the club record. "We don't get too fussed about those things."
Lemanis is not trying to downplay his side's achievements or brush off milestones. It's just only one thing really motivates the Breakers - and that's winning a third consecutive championship.
Forward Mika Vukona was unaware of the impending milestone and, while he said it was "special", explained the side had other aims.
"We want to create the North Shore Events Centre as a fortress and, going away [from home], we pride ourselves on having the best road record," he said. "Those are the two aspects we really focus on. What comes from that is a by-product of those two things."
Incredibly, the Breakers haven't really hit their straps this season. They have established a record of 15 wins and three losses and seem destined to meet Perth (12-4) in the grand final. But they have often had to grind out results after falling asleep at various times during matches. It might appear like they enjoy digging themselves out of a hole but, in reality, they would prefer to win more comfortably.
Their 84-66 defeat of Adelaide in their last match was one of their best all season but they face another challenging double-header considering they travel to face Wollongong on Saturday.
They have played six games in 23 days, five on the road, but there is no better elixir than winning. They are also blessed with the best and deepest roster in the league.
"There's no doubt fatigue is something we are dealing with but that's where our depth is really helping us get through this period" Lemanis said. "People have stepped up and carried the load in different ways and we need to again with another Thursday/Saturday schedule. We will need to spread that load across all 10 players.
"Obviously we are in a good mental space at the moment with the way we are playing and getting wins in this period and we are confident we can continue playing that way.
"We have always spoken about our depth and said we can play 10-deep but this year I truly feel it's the first time we are absolutely 10-guys deep and everyone can actually carry more minutes."
Alex Pledger's role against Sydney might be limited with the big centre still struggling with the ankle injury that saw him sit out the Adelaide game but Vukona has overcome his back complaint.
Sydney are the last team to beat the Breakers, when they prevailed 75-62 at Homebush last month, and they are third on the ANBL ladder with 10 wins and nine defeats. They come into the match on the back of three-straight defeats, including two to Melbourne, and won't want their own streak to continue.
- APNZ