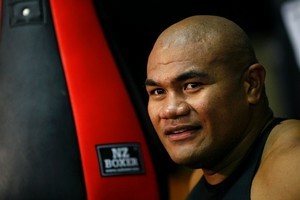 American heavyweight Demetrice King is confident he can handle whatever hometown favourite David Tua throws at him when the pair step in the boxing ring in Auckland tomorrow night.
Tua's destructive power is well known. His record of 56 fights - for 51 victories, three losses and two draws - contains 43 wins by knockout.
However, King was unconcerned about Tua's reputation or reports from the opposition camp that Tua would be targeting his body during the 12-round contest.
"I don't see that's an area of concern, if they work to the body or however they work," he said today.
"I condition my body to take the shots and to take the different punches. I'm a tank and I'm ready to stand up to whatever power will come my way."
King's durability is backed up by his 34-bout record, even if it contains just 15 wins.
Of his 19 defeats, all have gone the distance bar two.
Of the two that didn't, one was a retirement and his only knockout was at the hands of one-time world champion Shannon Briggs.
At 26, King, who hails from Michigan, is 12 years younger than Tua and he believed the age difference could be telling if the bout progressed to the latter stages.
"Most definitely it could be a big advantage," he said.
"He has a lot of experience, but my young legs do matter."
King weighed in this afternoon at 124.6kg, significantly heavier than Tua, who tipped the scales at 112.8kg.
Tua's weight is four to five kilograms above his weight for his three fights since he ended two years out of the ring to take on compatriot Shane Cameron in October 2009.
He was at 107.8kg when he stopped Cameron in the second round of their one-sided 12-round clash in Hamilton.
Tua's handlers described the extra weight as added muscle, while Tua, who still harbours ambitions of another shot at world title, said he was happy with his physical condition.
"It's a work in progress," he said.
"I'm trying to do things a little bit different."
Like King, he said he was prepared to go the distance if needed.
"This fight is like any fight I've fought in the past," he said.
"It just happened that guys get hit with a good shot. They get hit in the right place and it's game over.
"Nobody turns up to lose and it's the same with King. With that in mind, I have the utmost respect. I'm well prepared. I'm looking forward to a good fight."
- NZPA