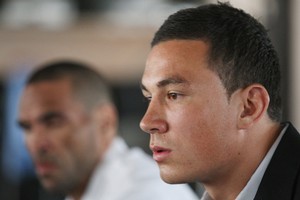 Interesting, this talk about how Scott Lewis might actually provide some decent opposition for cross-code superstar Sonny Bill Williams in a boxing ring on the Gold Coast tonight.
Lewis has been talked up as a more credible opponent than Williams' first two victims - Gary "The Baboon" Gurr and Ryan "Hulk" Hogan. Unfortunately for those keen enough to pay out $30 in the hope of a decent contest tonight, that's not really saying much.
Gurr, boxing aficionados may recall, had no boxing background to speak of and was cowed by one half-decent upper cut. Hogan was even worse, with Danny Green referring to the Butterbean impersonator as "not fit enough to run to the fridge".
So yes, Lewis, who has seven professional fights, does shape as a more credible opponent, and is at least of a less laughable shape.
But the 35-year-old forklift driver's record (and we're not talking the year he spent in prison) hardly bears close scrutiny. During his two-year boxing career Lewis has toured such establishments as the Maroochydore Rugby League Club and Revesby Workers Club.
Hardly Caesar's Palace, then.
His one notable success came against league prop Carl Webb via a TKO on an Anthony Mundine undercard. But even that victory is not quite what it might seem. Webb was a novice in his first fight. The contest was scheduled for four two-minute rounds but no one told the timekeeper, who added a minute to each of the first three rounds. Webb hadn't trained for the longer rounds and simply ran out of steam.
Of his seven fights, Lewis has lost four. He was knocked out all four times, three times in the first round. If that's not the record of a man hand-picked to eat some canvas nice and early, SBW is really Marvelous Marvin Hagler.
Remember, Lewis is no stranger to the Anthony Mundine/Khoder Nasser camp, the two main players in what may prove a lucrative dalliance with the fight game by Williams. He hasn't been chosen for this fight by accident. If anything, Williams' pedigree is a greater unknown than that of his previously anonymous opponent.
In his two brief outings Williams has shown an ability to construct punches tidily enough, and with his adonis physique and liberal sprinkling of body art he certainly looks the part. But if he doesn't win well he should give this boxing caper away.