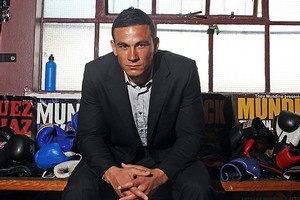 All Blacks rugby management are acutely aware of the attacking prowess Sonny Bill Williams possesses when offloading with his right mitt. Now they are anxious to confirm it also has defensive capabilities in a different type of contact situation.
While head coach Graham Henry can rest assured regarding the health of Daniel Carter and Richie McCaw this weekend because they are not involved in the Crusaders' opening trial match against Reds in Cairns, Williams has placed himself in a potentially precarious position further south on Queensland's Gold Coast before his anticipated Super rugby debut.
The Kiwis international-turned All Blacks midfielder/boxer has his third professional bout tomorrow night (12.30am start Sunday NZT) and an unemployed forklift driver from west Sydney threatens to cause more damage to one of the New Zealand Rugby Union's (NZRU) prized World Cup assets than the northern hemisphere's rugby powers could manage last November.
Williams completed preparations for the latest main event of his remarkable cross code sporting career today - a fight against Scotty Lewis who, perhaps ominously, already counts one National Rugby League player among the victims of his three-win, four-loss record.
Lewis is not expected to seriously trouble Williams, who has a significant height and reach advantage allied to the benefits of being a finely tuned, fulltime athlete.
But Henry and the All Blacks medical staff realise it only takes one punch flush on the jaw, lucky or not, for Lewis to knock their World Cup plans off kilter.
The 36-year-old at least looked the part when he fronted in enemy territory - Team Mundine's Gym in Redfern on Monday - to watch Williams sparring before landing some thudding blows himself.
Williams' first two forays in the ring last year - before he gained double international status against England at Twickenham-- were virtual walkovers against cowering, overweight ex-pats Gary Gurr and Ryan Hogan.
But Lewis has won three of his last four fights although former Queensland and now Parramatta prop Carl Webb could only be classed as novelty value on an undercard in Sydney a year ago.
Lewis, jailed for robbery in 1997, claims to have trained on the straight and narrow for five weeks, exertions that have caused him to be physically sick during his daily early morning runs.
"He'll come at me at 100 miles an hour but I'm out to win this fight," Lewis said, with predictable defiance.
"He's seen me fight and I'd say he'd be better prepared for me than the other blokes (Gurr and Hogan)."
Williams insisted Lewis would be a credibility test for his fall back career in the ring after he was barely touched in his previous bouts.
"It's no gimmick," he said.
"That's what a lot of people tend to think. I'm taking this seriously, I've left no stone unturned (regarding preparation). I believe I'll show everyone I'm not just serious about this sport but I can box as well."
Henry, assistants Wayne Smith, Steve Hansen and the NZRU hierarchy will hope Williams achieves just that inside in the Gold Coast Convention Centre after their star recruit was given unique permission to participate in another contact sport.
Since he professed his love for boxing Williams has polarised opinion but from the 25-year-old's perspective those traditionalists who believe the All Blacks jersey should be paramount need to take his decision on the chin.
"You have to take risks in life. You could injure yourself playing touch or falling off a treadmill.
"For me it's about pushing the sporting boundaries by showing some things are possible."
Williams is scheduled to join the Crusaders squad in Christchurch on Monday, where the priority will be another assessment of a stress-related injury to his left fibula, suffered in the All Blacks' final tour match against Wales last year that has prevented him running.
As well, it was revealed today that he suffered a suspected case of deep vein thrombosis, which developed on the flight from Auckland to the Hong Kong Bledisloe Cup stopover last November.
It threatened his participation on tour until he was cleared of the potentially life-threatening disorder.
- NZPA