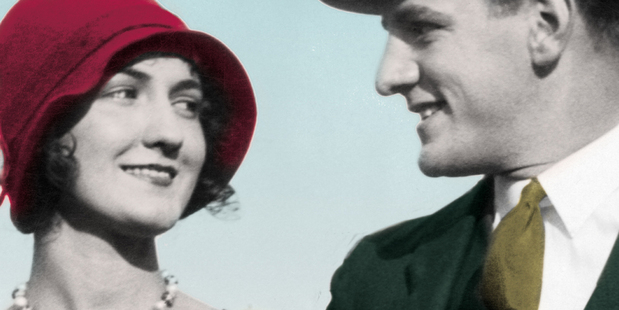 Sebastian Barry's latest novel is a narrative of disintegration and self-destruction, written in the most lyrical of language.
James McNulty is the latest protagonist from a family whose shop-soiled lives have preoccupied the Irish author for three books now. He's a spectacularly failed husband.
Domesticity and fidelity perplex him; he's more at ease with moments of trauma or drama: torpedoed ship; bodies shredded by a terrorist attack.
As a bomb disposal specialist in World War II, with a temporary officer's rank (hence the title) and then a UN observer in Africa, he's known many such crises. Now it's the 1950s, and he's in Accra, "lurking like a broken-down missionary" among its concussive rains, furnace heat and casual violence.
He's writing - a record of his marriage to Mai, "as alive as any human being ever was, radiating simple joy". She's a wife more devoted, more beautiful than he ever hoped for. So, quite casually, even lovingly, he wastes her money, turns her into an alcoholic, lies to her, betrays her, finally abandons her and their two children.
Decades later, his "confident strokes of thick black ink" mean he's having to face himself. "There's a lot to be said for this writing stuff down. The fog gets pushed away."
He writes in the hope it will somehow liberate him so he can return to Ireland and his now-adult, semi-functioning daughters. Or so he says: he's an unreliable narrator as well as an unreliable spouse. But erratically and awkwardly, he sets himself to try and help Maggie and Ursula.
His memories jolt with episodes of shocking, surreal violence. A monkey delicately plucks out a cat's eye; police break prisoners' bones with metal bars; a mother lashes a little girl shivering in the snow. The Africa where he now exists is full of Graham Greene-like figures, damaged, ruefully honest, still flickering with idealism. There's a big cast, nearly all of them with burdens to bear. "What strange men were about the earth ... once true, and their very trueness turned into betrayal."
Author and protagonist are joyously, exultantly drunk on words. A street is never wet; it's "flooded by a savage temper tantrum of summer rain". Jack's brother Tom doesn't play a cinema organ; he "worked the keys like a wizard, and seemed to be sitting astride the sun itself." You may wish for a little stylistic sobriety.
Longing for love and forgiveness to the very end, McNulty battles his way towards some degree of redemption - and a final half-page that will make you exclaim.
The Temporary Gentleman by Sebastian Barry (Faber & Faber $36.99).