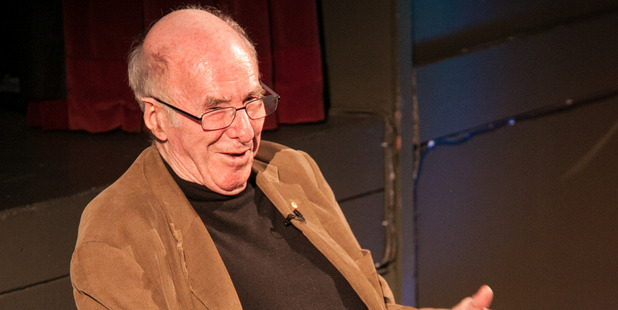 If anyone epitomised the Anzac Spirit at the Australia and New Zealand Literary Festival in London last weekend, it was Clive James.
Making what he humorously referred to as yet "another farewell appearance", the seriously ill Aussie author and television presenter's highly entertaining and emotional High Noon With Clive James was the sell-out sensation of the inaugural festival.
Suffering from advanced leukaemia and emphysema, the 74-year-old looked frail but had lost none of his trademark wit, joking that the Australian Prime Minister should "annex New Zealand".
Praising the late Hone Tuwhare as "a master of English", he gave a heartfelt reading of his 1994 poem, Deep River Talk.
"There are some exceptional Maori poets but even amongst them he stood out," he said.
"He was not just an indigenous poet but the best of the lot."
Earlier in the day, expat New Zealand writer Stella Duffy had lauded Janet Frame as "our Sylvia Plath" during An Angel At My Table, an insightful discussion of the late Dunedin-born author's legacy that included Stephanie Johnson and British authors Linda Grant and Margaret Drabble. Noting that she had also been in London around the same time as Frame in the late 1950s, Drabble expressed disappointment that their paths had not crossed. She also revealed that her husband, eminent biographer Michael Holroyd, believes An Angel At My Table is "the best autobiographical book of the 20th century".
Just as she did at her illuminating, often raucous talk on Antipodean crime writing with Melburnian Helen Fitzgerald and Scotland's Val McDermid, Duffy conducted a straw poll of the audience's nationalities.
"What really interests me is that there seems to be a 50/50 split between expat Aussies and Kiwis and British readers, which I think is ideal," says Duffy.
"We don't just want to be speaking to our own ghetto but, similarly, we also don't want not to be including ourselves. I think that is a real coup and the festival has been a real success as it's been really buzzy; it's exciting. And that means that it can only go from strength to strength."
Founded by Jon Slack as an attempt to break down the invisible wall that sometimes exists between Australian and New Zealand book markets, the festival's central theme was echoed at the British launch of Australian literary journal Griffith Review's special NZ edition.

Co-edited by Julianne Schultz and Lloyd Jones, Pacific Highways boasts short fiction, poems, essays and reportage from the likes of Kate dide Goldi, Owen Marshall and Hinemoana Baker.
Schultz began by touching on Allen Curnow's concept from 1947's Landfall #2 of "the neglected middle distance", which entails New Zealanders ignoring their near neighbours while constantly looking further afield to the United States and Europe.
"There's always been this peculiar thing in literary circles, where we first look at our own stuff, then we look at America and England and after all that we finally look across the Tasman at one another," said C.K. Stead, who participated in a lively talk with Schultz and fellow contributors Ian Wedde and Steve Braunias.
"It would be great if that could change and it would especially be good for New Zealand because it would give New Zealanders a broader market."
Declaring it "a promising start and very enjoyable to be a part of", Stead also took to the stage for The London Reunion with his daughters, novelist Charlotte Grimshaw and Margaret Stead, who is editorial director of Atlantic Books.

"It's maybe a bit light on the New Zealand side but they've got a great mix of Australian and New Zealand talent," he said of the festival. "But still, it's the first time it's been held so, for a beginning, it's been really good."