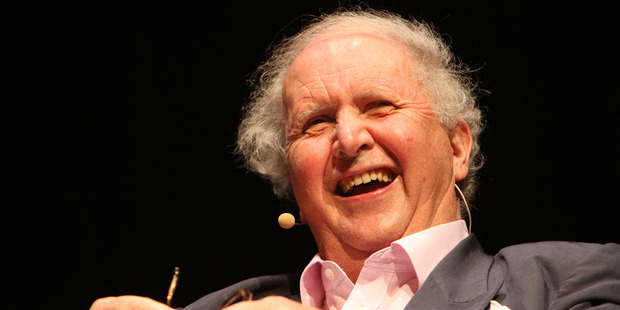 What a treat to see Scottish writer Alexander McCall Smith in his packed-out Saturday session discussing the pleasures of poet WH Auden with his really excellent host, New Zealand poet and fellow Auden-fiend Harry Rickett.
McCall Smith looked relaxed as they mulled over which period of Auden's work they preferred, saying the poet had described September 1, 1939, one of McCall Smith's personal favourites, as "trash".
"Most of us would pretend we hadn't written it then," he laughed.
One of the many pleasures of watching McCall Smith is the spontaneous mischievousness that bursts out, his sense of the ridiculous, that infectious giggle that bubbles up and out.
Auden's famous poem is Funeral Blues, which opens with the words "stop all the clocks".
"The London Olympics people wanted to use it," he spluttered. "They hadn't even read it. They thought it was about timing and clocks. It's all about grief!"
Auden, he said, was famous for his belief in ritual, like the martini served each day at exactly 6pm, and woe betide anyone if it arrived any later.
"One does need structure in one's life," he said. "Especially after the third martini," added Ricketts.
The poet was also renowned for his kindness, always answering letters from fans. One such correspondent, said McCall Smith, was a "Canadian burglar", a description which made him crack up - "Canada is so civilised, it's like saying I've got a cockroach".
There was a strange moment, or moments, in the Q&A section at the end. One woman, who identified herself as one of the more well-known rock musicians in New Zealand, was not content with an answer to her prolonged question.
She stood her ground at the mike, despite someone waiting behind her, and tried to engage in a conversation, to the point when AMS started to look a little uncomfortable.
McCall Smith has thousand of avid fans, but this was perhaps a step too far.