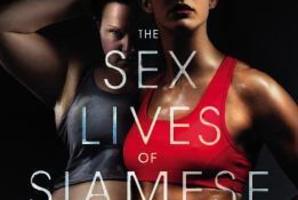 One of the main characters in Irvine Welsh's latest novel, The Sex Lives of Siamese Twins, is an artist who specialises in creating human figures of translucent resin, through which the skeletal structure is dimly visible. They're like real people, comprising the appearance, upon which the swift and shallow glance alights, and a deeper essence, which only a more studied appraisal will reveal. They're also like Irvine Welsh novels, which are noted (and sometimes dismissed) for their graphic content and which, at their heart, are acutely observed depictions of contemporary society.
Lena Sorenson, the artist, is obese. She despises herself for her corpulence and for the weakness that has produced it, and seeks refuge from these unpleasant feelings in junk food, thus perpetuating the usual vicious cycle.
One day, she happens to witness (and video) an incident on a Miami expressway, where a young woman performs a high kick to disarm a gunman intent upon shooting two fleeing men.
The heroine is Lucy Brennan, personal trainer and health and fitness fanatic. Lena's footage, leaked to the media, makes Lucy an instant celebrity, and she is courted by a television network to star in her own show, a reality series set on a cruise liner, in which fat people are challenged to "shape up or ship out" - a cross, as the producer's pitch has it, between The Biggest Loser and The Love Boat. Lucy is initially ecstatic, but fame turns overnight to infamy as it is revealed that the situation in which she intervened was unexpectedly morally complex.
Meanwhile, Lena tracks Lucy down and signs up on a weight-loss regime. Initially reluctant, Lucy begins, for reasons that aren't at all clear to her, to apply herself to Lena's case with the same fanatical zeal that has turned her own body into a model physical specimen. And in the background, vying with Lucy's story for the headlines, the nation's attention has been captured by the saga of conjoined twins Amy and Annabel Wilks, who have grown to young adulthood and wish to lead separate lives (hence, of course, the novel's tabloid title).
As we get to know them - as they get to know themselves - we soon appreciate that Lena and Lucy are in a similar situation to the unfortunate Wilks sisters.
Each has trauma in their past, and they are reacting in exactly opposite ways. Lena indulges herself as Lucy denies herself: they are like conjoined twins sharing a stomach and straining to be apart. Any solution to their predicament is bound to entail pain and risk.
The Sex Lives of Siamese Twins is driven along at Welsh's characteristically energetic pace. He revels, as usual, in the lurid detail of Lucy's libidinous adventures in the nightclubs of South Beach, Miami.
It is scorchingly satirical of certain aspects of life in his adoptive country: vapid celebrity culture, the way in which Americans' obsession with physical appearance exists alongside a whole, sophisticated industry devoted to passing off fat, sugar and salt as food.
The ending seems a little too neat, as though the author lost interest and sought an easy way out. But even at a canter, Welsh can deliver an exhilarating ride.
The Sex Lives of Siamese Twins by Irvine Welsh (Jonathan Cape $37.99).
Follow Life & Style on Twitter and Facebook.