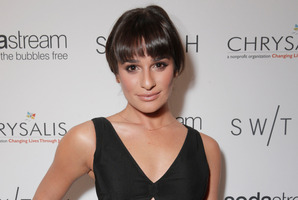 Glee star Lea Michele will release her debut book in May.
The actress/singer says her illustrated memoir and lifestyle tome, Brunette Ambition, will be out in May.
A post on her website reads: "The star of the hit show Glee shares her experiences and insider tips on beauty, fashion, inner strength, and more in an illustrated book that's part memoir, part how-to, and part style guide.
"Lea Michele is one of the hardest working performers in showbusiness and she knows better than anyone that it is difficult to be your best self and keep things in perspective when your to-do list is overflowing and you are faced with challenges.
"A practical and inspirational guide to harnessing tenacity and passion, Brunette Ambition is about living the fullest life, no matter what obstacles life puts in your way."
My #BrunetteAmbition book cover! I love it so much! Pre-order the book here: http://t.co/izeSxBpxax ???????? pic.twitter.com/GY1nKsgHlx

— Lea Michele (@msleamichele) February 3, 2014
Michele's debut album, Louder, is released on February 28.
- WENN