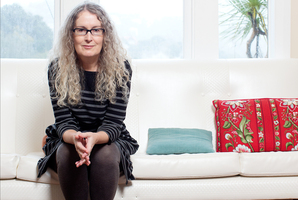 As we age from children into adults, the sheer power of our imagination ebbs away.
"Reality" gradually asserts itself against the many, many other possibilities children perceive, and we are the poorer for it.
There are, of course, exceptions, and Elizabeth Knox is one. There is nothing diminished about her imaginative powers. She evokes alternative realities - versions of our own but populated by such creatures of fantasy as angels and vampires - with sublime conviction. Much of the pleasure of reading her work lies in recovering a child's delight in make believe. Even where the material is deeply disturbing - as much of the material in her latest, Wake, certainly is - that old, familiar joy of entering another world is irresistible.
Constable Theresa Grey arrives in Kahutara - a kind of doppelganger for Kaiteriteri - to find a full-scale zombie apocalypse under way. People are maiming and murdering one another, using weapons, their bare hands, their teeth, anything.
They seem blank, oblivious, incapable of reason. Then, once it's over, even the victors in the initial struggle suddenly keel over dead.
Theresa soon finds other survivors, all of whom have arrived shortly after the bloodbath began and seem therefore to have been immune to the murderous, collective madness that has descended. The exception is Sam, a young resthome worker, who seems both to have succumbed to the frenzy and yet somehow to have survived and recovered.
The 13 survivors soon find that they are encircled and confined in Kahutara by an invisible field that nullifies energy - electrical, mechanical or biological - upon contact.
Escape is impossible. They are alone. They must pool their physical, emotional and mental resources to figure out what has happened, and what they can do to save themselves.
The answer to the first question seems to have much to do with a mysterious person they glimpse from time to time, and who actually assists when they are engaged in the horrendous work of burying the dead. He seems to be responsible for their imprisonment. And as they learn more about the nightmarish entity they are confronting their only hope for salvation seems to rest with Sam, who has this baffling ability to change personalities and who seems to be able to perceive a monster in their midst.
While the alternative reality that Wake comprises has been constructed with meticulous attention to technical and metaphysical detail, it can be read as a story about ordinary human beings. The 13 survivors are much like any group suddenly flung upon their own resources by disaster; and the ravening monster with which they are trapped, that feeds upon human pain and misery, is little different from the despair that dogs the tracks of survivors - castaways from ship or plane wrecks, populations devastated by war or natural catastrophe.
But there's really no need to go hunting for allegory to make Wake a highly entertaining read. As with most of Knox's writing, it is difficult to categorise.
Kahutara under the Wake's reign of terror may not be anyone's idea of a pleasure-dome, but there is a thrill in being so totally transported, of simply being elsewhere.
Wake by Elizabeth Knox (Victoria University Press $35)