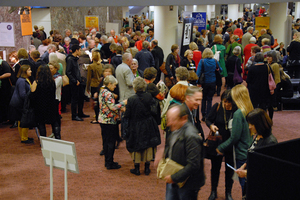 My favourite session at last weekend's Auckland Writers & Readers Festival involved tales of kidnapping, ship-burning, widow suicides and tortured men being nursed by strangers. All this, in Te Tai Tokerau/Northland in the early 1800s. Academic authors Alison Jones and Kuni Jenkins (Ngati Porou) have amassed a wealth of lively, informative detail from early written Maori sources in their book Words Between Us - He Korero: First Maori - Pakeha Conversations on Paper, discussed with session chair Anton Blank.
Pre-Treaty, the relationship between Maori and Pakeha was an "intense" one, claims Jones, "full of hope, negotiation and debate". The talk used maps, drawings and photographs to great effect. "Genius" Hongi Hika might have been a "genocidal megalomaniac" but what exquisite handwriting he had. We also saw examples of his clever "moko signature" invention - detailed drawings on paper of facial moko, which imparted personal authority like a European wax seal.
The festival is to be congratulated, not only for substantially increasing its free programme, but also for ensuring the free sessions were fun and worthwhile, and included both discussion and readings.
Excitingly, such bar-none sessions could become an important vehicle for cultural engagement in this country. So, too, could festival recordings, particularly if more of them were made available (audio from previous years is available from the RNZ website; some video is available on the festival's Vimeo page). It's a pity the discussion of the Anthology of New Zealand Literature, which promised to be spirited, was not recorded; many of us missed it as it clashed with Lloyd Geering's Michael King lecture. (Incidentally Geering was appallingly Eurocentric. One got the impression he strives towards a unity of universe which doesn't allow for paradoxical or minority views, and that he thinks of "the modern world" as an unalloyed Western phenomenon. Marx, apparently, was single-handedly responsible for Mao's China.)
Also local, free and interesting was the informal Antiques Roadshow-for-books event. Art + Object's Pam Plumbly was a wonderful multi-tasker, examining the books of 25 hopefuls under time pressure. It turns out that most books are roughly worth between $50 and $200; more interesting were the tantalising glimpses of the books' histories and content. Perhaps in future years, while Plumbly looks up recent prices for ivory-clad Yiddish prayer books, circa 1901, a second "human interest" interviewer could ask questions about the owner's Jewish grandfather from Belarus?
That would encourage us to bring in our curiosities, such as my junkshop scrapbook full of 1950s newspaper clippings about transport (it's riveting, I swear!), just to share in their oddball fascination, not to confirm they would fetch zero dollars at auction. Happily, the value of books is often higher than their price.
More than 34,000 seats were filled at last weekend's festival: 17,300 paid tickets; 12,000 school tickets (3000 students who each attended four events across the day); 5000-plus attendees at free events. Festival director Anne O'Brien said provisional figures estimate more than 13,000 people engaged with the festival, an increase of 25 per cent over 2012.