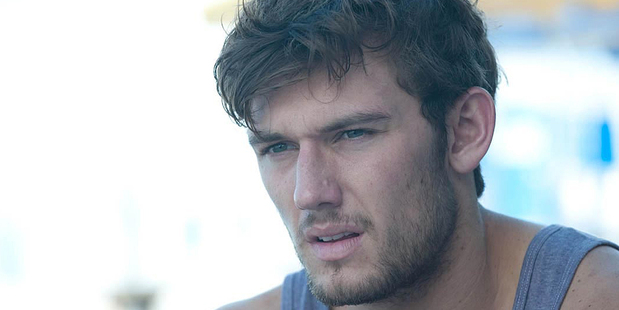 Is the big screen adaptation of erotic novel Fifty Shades of Grey getting closer to tying up a director?
Rumour has it that Gus Van Sant has thrown his hat in the ring as a potential candidate to helm the highly anticipated project.
Per The Wrap, Van Sant, in a bid to land the gig, is reported to have shot a test sex scene featuring Magic Mike star Alex Pettyfer as kinky billionaire Christian Grey.
According to an insider, Van Sant filmed the scene in which ingénue Anastasia Steele loses her virginity to Grey. No word on who stepped in to play Anastasia.
The Wrap notes that 23-year-old Pettyfer was cast as Grey just for the tape, not the movie.
Two-time Oscar-nominee Van Sant seemingly shot the test reel on his own initiative - despite not being asked to helm the movie. A spokesperson for Universal Pictures, the studio involved in making the film with Focus Features, said they had not commissioned any test reels or lined up any directors or actors for the project.
E! Online also reported that a source had confirmed the news that Van Sant shot a sex scene - "because he wants to show it to producers in a bid to direct the much-anticipated flick".
Van Sant has previously directed Promised Land and Milk for Focus Features, which - along with Universal - snapped up the film rights to the Fifty Shades of Grey trilogy by British author E. L. James for a reported $5 million last year.
Pettyfer is currently shooting Universal's remake of Endless Love in Atlanta.
Last October, British screenwriter Kelly Marcel was hired to pen the script for the Fifty Shades film.
"Kelly's work demonstrates her flawless structural technique and passionate commitment to emotion, humour and depth of character, which is particularly visible in the celebrated screenplay for the upcoming Saving Mr Banks," the project's producers Michael De Luca and Dana Brunetti (The Social Network) said in a statement.
"We were all taken with the depth and passion of Kelly's engagement with the characters and world EL James has created, and we knew she was the right person to augment our Fifty Shades family."
The hiring went down like a lead balloon with novelist and screenwriter Bret Easton Ellis, who had been Twitter campaigning for himself to transition Fifty Shades from book to big screen.
"Kelly Marcel: the creator of (gulp) Terra Nova and a Mary Poppins biopic has been blessed by EL James and no one can stop her," the American Psycho scribe huffed on Twitter. "Dear God. Kelly Marcel?!? KELLY MARCEL?!? Kelly Marcel is WRITING the script for Fifty Shades of Grey?!? THIS is the movie they want to make? ARGH."
There has been much speculation over who might play Christian Grey and his paramour Anastasia Steele in the film.
Mila Kunis and Emma Watson were once touted as frontrunners to play Steele, but both actresses have ruled themselves out.
Watson took to Twitter last month to deny that she would be stripping down and trading in her Hogwarts robe for handcuffs to play the part.
"Who here actually thinks I would do 50 Shades of Grey as a movie?" she wrote. "Like really. For real. In real life."
Watson then posted another message, with just a question mark.
Followed by: "Good. Well that's that sorted then," and a smiley face emoticon.
For Grey, the likes of Ian Somerhalder, Ryan Gosling, Michael Fassbender, Henry Cavill, Matt Bomer and Chris Pine are all rumoured to be hot picks.
You can also add Stephen Amell to the mix.
The Arrow star posted a video to his Facebook page last month addressing rumours that he's a contender for the lead role.
"I get questions about Christian Grey all the time," he said. "That project is a long way off. I know this, because I had a meeting about it."
He coyly added, "I mean, not that long... but not close. I wouldn't call it long... but I wouldn't call it close."
The Canadian star also addressed the rumours during an appearance on The Tonight Show With Jay Leno this week.
"I had a meeting with the studio that is doing that movie and we spoke about it. I anecdotally brought it up on my Facebook page ... and all of a sudden it was this big news story. I'm flattered if any movie role and my name are mentioned in the same sentence, because there haven't been a ton of them," Amell said.
"I'm still an actor who wants to work all the time."
Fifty Shades author James revealed in February that casting decisions for the movie adaptation had not been made.
"We don't even have a filmmaker...so we are still a long way away from casting. I have some ideas...but it may not be who people expect," she told Page Six.
Meanwhile, Universal chairman Adam Fogelson spoke to The Hollywood Reporter, and suggested the movie could arrive next year.
"I don't believe that [author EL James] had any interest in going to a studio where rushing it into production was the vision," he said in February.
"And I think that there are totally legitimate questions about what this book is as a movie. I will tell you that it is an absolute priority for us. It's conceivable that we could be ready to release it as early as next (northern) summer."
NOTABLE NUGGETS
And finally...
* Tom Cruise, Armie Hammer teaming up for Man From U.N.C.L.E. movie.
* Cool your jets, internet: Anne Hathaway doing Cabaret on Broadway? "It's not true - totally made up," says her rep.
* Matthew McConaughey defends Justin Bieber's distaste for shirts.
* Gwyneth Paltrow may have been named the most-hated celeb in Hollywood by one mag, but she's just been crowned the world's most beautiful woman by another.
* Nicki Minaj set to join Cameron Diaz movie The Other Woman.
* Two charged over topless Kate Middleton pics.
* Zooey Deschanel gets apology from closed captioning company after Boston manhunt gaffe.
* Amy Winehouse documentary in the works.
* Did American Idol producers try replacing Mariah Carey with Jennifer Lopez?
* Steve Martin opens up about being a first-time dad at age 67.
* Clint Eastwood's wife Dina goes into rehab for depression and anxiety.
* "It's nice to marry your best friend" - Justin Timberlake gushes to Ellen DeGeneres about married life with Jessica Biel.
* Billy Ray Cyrus talks status of Miley's engagement.
* Watch: Beyonce debuts new song Standing on the Sun in H&M ad
Follow Myrddin Gwynedd on Twitter.
- Rumour Has It