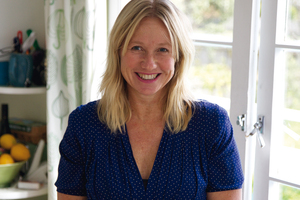 The book I love most is ... at the moment Brian Turner's Elemental: Central Otago Poems. I'm surprised to find myself able to enjoy poetry so much but I am. It's delightful, the images are magical, and his love for this land and his fellow man shines like a beacon of hope.
The book I'm reading now is ... Brixton Beach, by Roma Tearne. A story of love and the devastation wreaked in Sri Lanka.
The book I want to read next is ... Roma Tearne's latest. When I get on to an author I like, I stick with them. I'm the same with a recipe. I discover a dish I like and cook it until my friends and family are tired of it.
My favourite bookshop is ... my friend Rachel who lives in Hokianga. She always knows the next book to recommend to me and she nails it every time. Then I go about buying it in whichever bookshop is closest at the time.
The book that changed me is ... Birdsong by Sebastian Faulks. It completely altered the way I viewed those who went to fight in the wars. I read it when I was quite young and naive enough to think that anyone who went to war was just plain stupid. Birdsong made me realise how much more complex it is.
The book I wish I'd never read is ... Barbara Kingsolver's The Poisonwood Bible. For some reason I ploughed through it while not enjoying it or understanding its intent at all. I now allow myself to not finish books I'm not loving enough.
• Nici Wickes is the food writer for the NZ Herald's Viva section and her book Cook, Eat, Enjoy (Harper Collins) is out now.