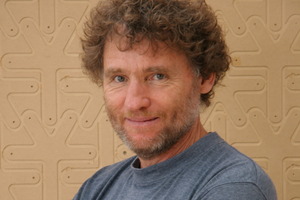 The book I love most is ... A new drawing book - lots of empty white pages full of unlimited potential.
The book I'm reading right now is ... Cave Paintings and the Human Spirit; the Origin of Creativity and Belief, by David Whitley. I'm interested in the role art has played in our culture for an unbroken, what? 50,000 years? It must be pretty vital to us, not some peripheral indulgence as current culture might make out.
The book I'd like to read next is ... Passages, the book my partner, Linda, is writing about our 1980s yacht voyage to New Zealand with our young family, written from a contemporary perspective.
My favourite bookshop is ... Unity Books. I can get lost in there for hours.
The book that changed me is ... The Master And His Emissary by psychiatrist Ian McGilchrist about how the two hemispheres of our brains work and how that has affected human culture through the ages.
It has given me vital insight into how the creative process can work best when it uses the full potential of our amazing brains, not just part of them.
The book I wish I'd never read is ... The only one is the Bible, not that I ever read much of it, but it was rammed down my unwilling throat at school.

David Trubridge is an internationally successful New Zealand furniture designer who recently published his biography So Far (Craig Potton)