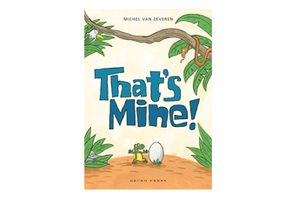 The Wreck Of The Diddley
by Fatcat and Fishface
(Craig Potton Publishing $24.99)
New Zealand musicians Fatcat and Fishface have been writing and recording quirky and colourful songs for children since 1997. This ditty about a ship going down in a storm was turned into an animated video, then the duo enlisted illustrator Stephen Templer to create a colourful book that captures the rollicking spirit of the song. Hugely entertaining yarn with dual and duelling narrators, and the DVD of the song is included.
Katarina
by Gavin Bishop
(Random House $19.99)
A reissue of a book first published in 1990, this is a moving tribute by Bishop to his great-aunt Katarina. It tells the story of a Maori girl growing up in the mid-1800s in Waikato, enjoying a simple life before she falls in love with a Scottish settler. Katarina has to navigate her way between the Maori and Pakeha worlds, making a new life in the South Island and raising a family.
Bishop's evocative illustrations and straightforward delivery capture his great-aunt's strength of character.
That's Mine!
by Michel Van Zeveren
(Gecko $19.99)
As the title indicates, greed is at the centre of this boldly illustrated tale that takes a couple of entertaining twists after a frog discovers an egg and claims it for himself. The joyous little frog is soon outmuscled by bigger animals laying claim to the egg until an elephant is injured in the fracas. With the other animals disowning the egg, the frog finds itself back in possession, but the surprise ending serves up a warning about being careful what you wish for.
The Three Bears Sort Of
by Yvonne Morrison
(Scholastic $19.50)
Clever and hilarious reinvention of a classic with a mother trying to tell the story of The Three Bears in the face of a barrage of questions from a youngster who refuses to take anything at face value. Donovan Bixley uses an imaginative mix of illustrations to delineate the standard story as opposed to the constant interjections from the smart-alec child and the explanations by the increasingly exasperated mother. And it's all topped off with a lovely punchline.
The Runaway Toilet
by Jane Buxton
(Penguin $19.99)
This was always going to be a runaway hit with our kids due to its toilet humour and the use of those outrageously naughty words, "poos" and "wees". Buxton employs some pungent humour and sprightly rhymes as she follows the adventures of Philip, a new toilet who decides he doesn't want people doing their business in his spotless bowl. Breaking out of the plumbing shop, he tries to find a new life but initially things don't quite pan out as he hoped.