A new novel imagines the shimmering yet ill-fated life of Zelda Fitzgerald, writes Rebecca Barry Hill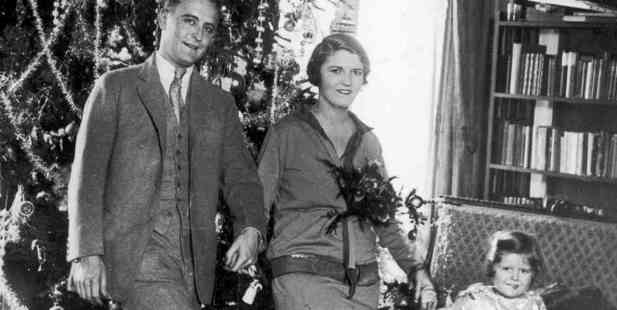 Z: A Novel Of Zelda Fitzgerald by Therese Anne Fowler
(H&S Fiction $36.99)

At first, it seemed like a silly idea: a novel about Zelda Fitzgerald, best known as the wife of literary legend F. Scott Fitzgerald. American author Therese Anne Fowler was thinking about something else entirely when Zelda came to mind, seemingly out of nowhere.
"I just thought she was this crazy woman," says the North Carolina-based writer, on the phone from New York where she was meeting with her publisher. "I found [the idea of writing about her] completely ridiculous."
Knowing very little about Zelda other than her status as the first American flapper - the name given to the post-World War I beauties for whom life was about fun, rebellion and dancing - Fowler went online and was intrigued to find Zelda's death on March 10, 1948, was the same date as her own mother's (although in different years).
Then began the year-long process of research and writing the book that would become Z: A Novel Of Zelda Fitzgerald, a mesmerising account of the Fitzgeralds' tragic love story, set mostly in the Roaring Twenties. Sassy, witty and compulsively readable, the novel is destined to put Fowler on the literary map. Fortuitous too is that its release precedes Baz Lurhmann's anticipated cinematic version of The Great Gatsby, set to open the Cannes Film Festival in May. Both works are bound to re-ignite interest in the Fitzgeralds, a public fascination that surged after F. Scott Fitzgerald died in 1940.
From the country dance when young Southern belle Zelda Sayre met the aspiring author, army officer and alcoholic, she was Alice down the rabbit hole. After Fitzgerald's success with This Side Of Paradise, the couple embarked on an endless stream of parties, a glamorous, nomadic life in New York, Paris and the Riviera, during which time the vivacious and headstrong young woman struggled to become a writer and artist in her own right, while raising a daughter, Frances "Scottie" Fitzgerald.
Throughout the 20s the couple became, Fowler writes, "famed miscreants of Manhattan and Long Island", and later, members of the expatriate elite in France. They mingled with the intelligentsia, the talented and the cool of their time: Ernest Hemingway, Pablo Picasso, Coco Chanel, Ezra Pound, Gertrude Stein, Jean Cocteau and Cole Porter.
"I think we're all attracted to the girl who never has to try very hard," says Fowler. "Zelda was naturally fun to be around. She didn't appear to have insecurities when she was young. She was fearless in almost every respect, and smart."
A cautionary tale, Z also covers the couple's disintegrating relationship, a marriage driven to breaking point by fame, literary failure, infidelity, financial crisis, booze, betrayal and ailing health. As Zelda tired of the parties and her husband's increasingly erratic behaviour, she found herself drawn toward her own pursuits in writing, painting and ballet. Among her best-known works was the farce Scandalabra and novel Save Me The Waltz. In Z, she is a woman struggling to find herself in the shadow of her famous husband.
"Part of my impulse [to write Z] was that I felt she was so misrepresented by the naysayers, those who say she was responsible for the troubles in Scott's life. I felt like the record needed to be set straight," says Fowler.
When Z sold to a publisher on the same date The Great Gatsby published in 1925, Fowler considered it another good omen. Anyone who has read that classic American tale will recognise the decadent lifestyle described in Z. It was a contradictory era, in which women found themselves caught between emerging feminist ideals and traditional expectations. Despite her independence and spirit, she was somewhat oppressed.
"I think it was just as hard for Scott, in that he was raised in a traditional upbringing. He was the modern face of his generation and it was very difficult for him to walk away from inbred expectations. It's hard if your wife wants to have a career and you're trying to be the star."
Books have always been Fowler's salvation. She grew up in a sporting family, and was the first female to play Little League baseball. When she was a teen, she fled domestic troubles by spending hours at the library. At 18 she married a military man, following him to the Philippines where she sought respite from the heat and boredom through reading.
Z is her first historical novel and the first to receive significant critical acclaim.
Fowler has always been drawn to love stories and family drama. Her previous novels include Souvenir, a drama about a woman confronting the past, Reunion, about a celebrity talk show host determined to find her son, and Exposure, inspired by what was dubbed a "sexting crime". With the release of Z, the author's publishing company encouraged her to publish with her middle name, Anne, to mark what they saw as a bold change in direction.
Rather than rely on her own experiences and imagination, Z required months of research. Those familiar with the story already will know Zelda's life didn't have a happy ending, giving the novel what Fowler thought would be a straightforward structure. She soon discovered it was much harder, as she wanted to honour the facts, many of which were hotly contested - and like anyone's personal tale, some events were simply not recorded.
"It was a much tougher job than I thought it would be," says Fowler, who has an MFA in creative writing and teaches the craft to undergraduates. "I'd naively imagined the story was already established. But the structure was challenging because there is so much information about her."
She read several biographies and scoured a photographic collection, The Romantic Egoists, compiled by the couple's late daughter, Scottie. But her greatest resource was the correspondence between the pair, while Zelda was in hospital for mental illness and Fitzgerald was working in Hollywood. The letters also informed Zelda's passionate, lyrical voice.
Fitzgerald is represented in the book as brilliant and charming, a flawed genius with a rampant ego and a careless way with money. Fowler also tracks his descent into alcoholism and despair, and offers a tantalising reason for the animosity between Zelda and Ernest Hemingway. There is also a suggestion of homosexuality on the part of at least one of the writers. Fowler says she approached the gaps in the story the way a detective might investigate a murder, looking for motives, then writing what seemed the most plausible.
The result is a novel that feels both epic and intimate, as if the reader is one of Zelda's good friends following her on her journey, and marvelling in horror at her fate. Zelda's doctors - and husband - suggested she was ill, diagnosed with schizophrenia, because she strayed from her wifely duties.
Fowler suspects a more accurate diagnosis might have been anorexia. By that time Zelda was training long hours as a ballerina, a role that took its toll physically and psychologically.
As for writing about writers, and esteemed ones at that, Fowler certainly felt the pressure.
"What I like so much about Fitzgerald's stories, even the most serious ones, is that he's unafraid to demonstrate a character's humanity. Jay Gatsby is wonderfully flawed and human. You get to know his characters, warts and all. I endeavoured to do the same."

Z: A Novel Of Zelda Fitzgerald (H&S Fiction $36.99) is out now.