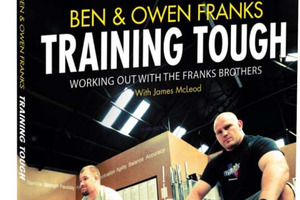 The Franks brothers, famously, are allowed to follow their own training programmes so if All Blacks coach Steve Hansen wanted to get an idea of what they were up to he could do worse than read their new book.
Training Tough is a collaboration not surprisingly dominated by what Ben and Owen, All Blacks props and former teammates at the Crusaders - elder brother Ben is now at the Hurricanes - get up to in the gym.
It is designed for young athletes who already know their dumbbells from their barbells and want specific exercises to build strength and power.
An in-depth look at the Franks brothers and their relationship, this is not. But there is an introduction by Phil Gifford titled "To be Franks" in which their dad, Ken, tells an interesting story about his stint in the Australian Navy and almost coming to grief in a submarine.
It's made clear how hard the brothers have had to work to get where they are. Photos taken when they were children or teenagers give no clue as to how they will end up after years of toil in the gym or training field.
The Franks say they weren't taken seriously at age 18 or 19, but what the coaches didn't realise was they had been training solidly for four or five years at that point.
They each now weigh 118kg and Owen, 25, is an ever-present in the All Blacks front row.
Another insight comes in Ben's reasoning on why the brothers like to do their own thing.
"In a rugby squad you've got about 30 guys. For me, I'm trying to get myself to the next level, so I can perform for the team. When you've got a trainer looking after 30 guys, he's looking at a more general goal.
"Weights for me has never been about getting strong, it's about how it'll affect my technique for rugby, so I've always wanted to know, 'why am I doing this exercise?'
"I can understand how that could be annoying, but I just wanted to know the reason for everything. If they gave me a reason and I understood it, then I'd buy into it fully."
And then it's into the gym exercises via a brief look at their influences, including dad Ken, American trainer Ed Cosner and former Mr New Zealand bodybuilder Warren Thin.
There are plenty of photographs of the boys going through their paces. Top tip from the brothers: You have to earn the right to wear tight singlets in the gym. Brad Thorn can get away with it, they say. The brothers prefer baggy clothing.
Training Tough
Working Out With The Franks Brothers, Ben & Owen Franks
Hodder Moa
RRP $34.99