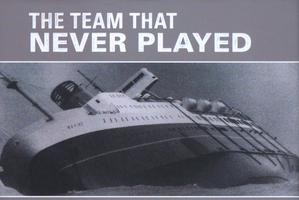 "If we get out of this alive then we'll play cricket for New Zealand."
If the opening sentence of a book should immediately capture the reader's attention, this fits the bill perfectly. The words were uttered by Murray Webb, the renowned caricaturist, to his Otago University teammate Murray Parker on board the Wahine on April 10, 1968, when it went down in Wellington Harbour. Prophetic words, as both did, in the case of Webb, a truly quick fast bowler, four years later; Parker's time came eight years on.
The story of the sinking of the Wahine remains vivid, not least because of its proximity to land. There is television film of the awful day, so it lives on in the mind. More than 50 people died when the ship hit Barrett Reef as it entered the harbour, and passengers abandoned ship. That stormy day will forever be lodged in New Zealand's consciousness.
The latest book on the tragedy has special significance for cricket lovers, for the passengers that day included members of the Otago University team on their way north to the annual university tournament in Palmerston North.
This book is their story. All 11 players went their different directions in life, but remained linked forever by more than just the passing acquaintance of being members of that university team.
The book is just 96 pages long, a good size, big enough to tell the players' stories; not so big as to become bogged down in the vast amount of well-travelled territory.
Funny things you can discover. This writer didn't realise, until reading this book, that one of the Otago players was Murray Leach. A few years later he was an opponent on several occasions in Christchurch club cricket.
Some players went on to play first-class cricket. There were Webb and Parker; the captain Ray Hutchison played 37 times for Otago; Rick Ellis played 14 games for Central Districts in the first half of the 1970s; Russell Stewart 17 times for Otago around the same time. For at least one player the trip marked the end of his cricket days.
The point is made that many of them in the years that followed didn't really talk of that day.
The Canterbury team going to the tournament were also on board. One of their number, Chris Kirk, a left arm spinner who went on to play first-class cricket for that province, made the telling observation 40 years on from the disaster that "there were no counsellors waiting to look after survivors".
"It was a matter of going home and getting on with life. It's stored away inside my mind. You can't always use words well enough to describe what you are feeling so you don't use any."
There are chapters featuring side elements. Former test players Richard Collinge and Bruce Murray offer different perspectives from their vantage points; as does writer Spiro Zavos, then working at the Dominion, who was in one of the boats trying to get to passengers in the water.
The players' stories are harrowing. Each has his own specific memories and how it impacted on their later lives. Well worth reading.

The Team That Never Played:
Wahine and the 1968 Otago University Cricket Team
by Ronald Cardwell and Bill Francis
(The Cricket Publishing Company)