For novelist Nalini Singh, home is always best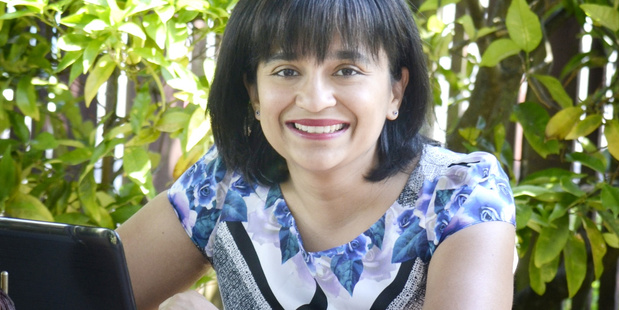 As it should be for everyone, home is Nalini Singh's happy place. Photo / Supplied
My happy place is my home in central Auckland. I travel quite a lot. Last year I went to Europe a couple of times and the States a couple of times and I had a few other trips - but part of the reason I love to travel is that I get to come home afterwards.
Everything is as I want it here. It's really nice to come home and go out into my garden and potter around with my plants and my flowers.
I get a feeling of wellbeing when I come home, knowing I can just sit on my couch and read a book. I write in my study, and out in the garden as well. It's really relaxing being in my own space, versus hotel rooms.
I've been here three or four years. It takes a while to get everything exactly as you like it in a house. Now, my study is set up how I want it, my garden is how I want it, and I have a library room where I have all my books. It's really comfortable.
When I moved into the house one of the first things I did was to get wall-to-wall shelves built in the library for all my books.
For a long time my books were in storage in my parents' garage.
I love going into my library. It's a really calming place. It's not only got books, but it's got things I've picked up when I've been travelling.
There's a lot of me in that room. But there's a lot of me in my study as well, because I spend most of the day in there. I love my desk - I've had it since I was a teenager. And I have a thesaurus I've had for so many years I can't remember. I have my maps, my dictionary, my research notes, my pens and paper, my continuity notes and my own books marked up and tagged.
When I go overseas on book tours, quite often fans will give me little things. I write about angels, so people give me little angels, which I have sitting on a cubby shelf in my study. It's a good feeling to know that people love the books so much.
When I'm writing, when I'm deep into a book, I tend to disappear for a while. I'm able to zone out wherever I am - if I'm stuck in an airport I'll find myself a little corner and go for it. But my favourite place to write is at home. I'm happy when I'm here.
- as told to Bronwyn Sell

• New York Times best-selling author Nalini Singh is one of New Zealand's most successful writers. Her latest book is Wild Invitation, a collection of short stories from her popular Psy-Changeling series. It's released on Tuesday. (Hachette, $24.99).