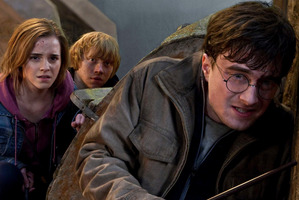 Modern day tales of wizards and vampires are proving more popular with British children than classic stories like Roald Dahl's Matilda, research suggests.
A new study reveals that books by traditional favourites like Dahl and Allan Ahlberg are no longer the first choice of the nation's youngsters.
Glass Houses, the first book in the Morganville Vampires series by Rachel Caine is the most popular novel among children.
This is followed by the third book in JK Rowling's Harry Potter novels, Harry Potter and the Prisoner of Azkaban, and Twilight, the first of Stephenie Meyer's vampire series.
More than 300,000 UK children aged five to 16 were asked to vote for their favourite books as part of the What Kids Are Reading report by Renaissance Learning.
The findings suggest that the popularity of books such as Matilda, the BFG, both by Roald Dahl, or Allan Ahlberg's the Jolly Postman, all published more than 25 years ago, are on the wane.
Neither author has a book in the top 10 of children's favourite novels.
Instead, the list is dominated by fantasy and adventure books, as those whose main characters have appeared in films.
Another Harry Potter book, Harry Potter and the Goblet of Fire makes into the top 10, as well as Diary of a Wimpy Kid: The Ugly Truth by Jeff Kinney, Anthony Horowitz novel Crocodile Tears which features 15-year-old spy Alex Rider, and Rick Riordan's fourth Percy Jackson book, Percy Jackson and the Battle of the Labyrinth.
The study does show that while books by Roald Dahl are not children's first pick, he is still the most read author, along with Jeff Kinney. Allan Ahlberg also appears on this list in seven place, along with Jacqueline Wilson and Julia Donaldson in joint ninth spot.
Dirk Foch, managing director of Renassiance Learning said that the difference between the most popular books and the most read authors showed how children's tastes have changed.
"This is a very interesting point - it indicates that there is a big difference between the books children enjoy reading and the books that are available to them or the books they are encouraged to read by adults,'' he said.
"It's clear that although books such as the Roald Dahl classics may still be very prevalent in schools, children's tastes have very much moved on and it's TV, film and vampires that are currently in vogue.''
Top 10 most popular books for UK children:
1. Glass Houses: The Morganville Vampires by Rachel Caine
2. Harry Potter and the Prisoner of Azkabanby by JK Rowling
3. Twilight by Stephenie Meyer
4. Crocodile Tears by Anthony Horowitz
5. The Dead Girls' Dance by Rachel Caine
6. Diary of a Wimpy Kid: The Ugly Truth by Jeff Kinney
7. Harry Potter and the Goblet of Fire by J K Rowling
8. Percy Jackson and the Battle of the Labyrinth by Rick Riordan
9. Mates, Dates and Sole Survivors by Cathy Hopkins
10. Survival by Chris Ryan
Top 10 most read authors by UK children:
=1. Road Dahl
=1. Jeff Kinney
2. Roderick Hunt
3. Francesca Simon
4. Suzanne Collins
5. J.K. Rowling
6. Michael Morpurgo
7. Allan Ahlberg
8. Martin Waddell
=9. Julia Donaldson
=9. Jacqueline Wilson
10. Louis Sachar
- PAA