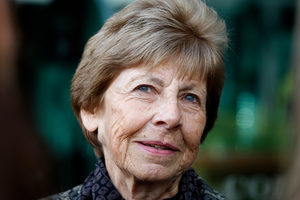 Maria Collins, the widow of Erebus crash pilot Jim Collins, says she had to do an about-turn on Sir Paul Holmes.
Air New Zealand pilot Mr Collins was blamed for flying his DC10 into Mt Erebus in Antarctica in 1979, killing all 257 on board.
Sir Paul first contacted Mrs Collins three years ago because he wanted to write a book about the disaster. Initially she wasn't keen, fearing it might not be accurate or that it would be full of sentimentality.
In the end, she was pleased with Daughters of Erebus, which was published in 2011. Sir Paul regarded it as one of his greatest achievements.
Mrs Collins remembered how she met Sir Paul years ago when holidaying north of Auckland.
"In the late 80s he was in a little holiday flat, we were in one flat and he occupied the other one for two or three days.
"I saw this little man coming in with a pile of books and as he sat in the armchair I think the pile beside him was as tall as he was.
"My then teenage children hissed at me, this is the new guy who's coming to Auckland."
She can't remember any of the books he was reading but thinks they asked him over for a drink and explained they had been coming to the same place for many years and if he needed to know when the rubbish was collected she could tell him.
She is sure he knew who they were but he never mentioned it. The next encounter she remembers is after the 30th anniversary of the disaster in 2009 when he wrote something in his Herald column which Mrs Collins says wasn't quite accurate.
"I emailed him and I said 'Paul, if you're going to say this, this is how it really was, you've got to make it correct.' He emailed me back saying 'oh, well, I'm glad someone's still watching and keeping me up to the mark', or that sort of comment."
In February 2010 he emailed her again and told her he was considering writing a book about the crash.
"My heart sank at first ... I was just worried it would become populist mush and we wouldn't be portrayed the way we should be, so we made all these things clear and I think we gave him quite a hard time.
"The first draft which he showed us, after a separate interview with each of us ... was just awful."
He respected what the family said to him - but he didn't show them any more drafts.
When the book came out she was nervous but he had made the changes and she was happy.
The family got to know him a little better and he would send her chatty emails.
"Then, of course, it suddenly became very obvious [last year] things were going pear-shaped, so he wrote the book in time ...
"As I say, I've had to re-evaluate my thinking about him and the book as well ... in hindsight, with my reluctance and the finished product, we've got a book that appears to have gone down well ... and therefore it's achieved its aim."