Romance author hopes basing her first published book on Pitcairn Island will pique interest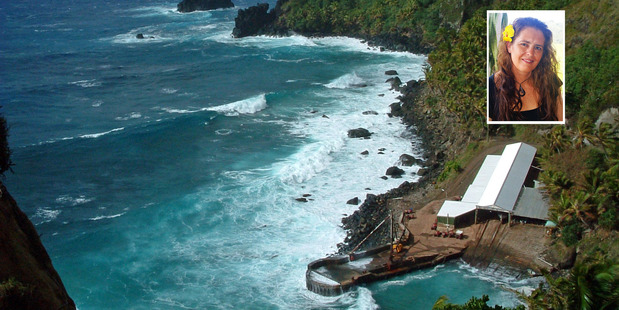 Life is a little different on Pitcairn Island. And for new author Nadine Christian that - as well as its rich and colourful history - is exactly the kind of inspiration she needs.
The 40-year-old is the sole author based on the island, but also serves as the museum curator and as the Government's treasurer.
Her first book, romance novel Remembering Love, is to be released on February 1 and will be a love story with a difference, as it is based on Pitcairn Island.
"You get cowboy romances and romances in the city ... but this is based here. The way of life on Pitcairn is very different. You've got to bake bread - you can't walk down to the store to get it. You've got to grow a garden if you want fresh vegetables.
"One of my characters dies and I've written about how people here at Pitcairn do their funerals ... if the person dies say at midnight, by five o'clock the next day the funeral's done and the person's buried," she said.
"Love is the same everywhere, but I've inserted a little bit of Pitcairn in there. It's different and I think that's what's going to appeal to people."
Mrs Christian, who grew up in Hawkes Bay and attended Havelock North High School, has always been an avid reader and only started writing last year when a friend encouraged her.
She has written six stories. Remembering Love is the first book to be published.
She has lived with husband Randal on the island since 2002 and the couple have five young children - two of whom were born on the island.
Her husband is an eighth generation descendant of the leader of the mutiny on the Bounty, Fletcher Christian.
Mrs Christian said the island's colourful history was something that had also inspired her and it therefore was very much woven into the story.
"I thought I'd put in there a little about the mutineers. Like when Jack takes Holly up to Christian's Cave to have a picnic. They're looking over the place and he tells her a little bit about the history."
Her writing has seen her nominated in The Shorty Awards, which honours active writers on social media. Mrs Christian said she hoped people would get excited about her first book, as she was working to produce more romantic novels.
"There's something a little bit special about love at Pitcairn."
Mrs Christian's novel will be available on Amazon from February 1.
For more information, visit her website on nadinechristian.com.