Kate Morton's fourth novel delights with details, says Nicky Pellegrino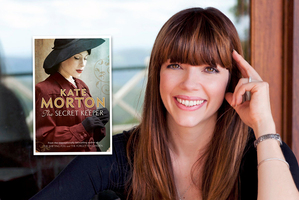 Who can resist a secret? In novels they are often what keep us spooling through the pages to the point where all the pieces fall into place and the mystery is revealed.
Australian writer Kate Morton's latest novel, The Secret Keeper (A&U, $39.99), is a cleverly plotted puzzle with a deep, dark family secret at its centre that teases the reader along for nearly 600 pages.
The story shifts between World War II, the early 1960s and the present. It opens in a rambling farmhouse in rural England where Laurel Nicolson is having an idyllic childhood - until the summer's day she witnesses her mother Dorothy stab a stranger to death in their garden with the knife that's usually reserved for slicing birthday cakes. The man is dismissed as an intruder and Dorothy's actions self- defence. But years later, when Laurel is a celebrated actress and her mother old and dying, the mystery of what she saw that day begins to haunt her and she resolves to try to uncover the truth.
Morton's previous best-selling historical fiction has centred on aristocratic families and grand houses, so in a sense The Secret Keeper is a departure.
What hasn't changed is her ability to pile on detail without slowing the story too much.
She brings to life Dorothy's wartime years, the young photographer who courts her and the intriguing heiress whose friendship she longs for. Characters are keenly observed and beautifully drawn, places conjured up and eras brought to life vividly.
Although the lavish layering of detail is what makes Morton's writing so evocative, there are times she overdoes it. Did I really need to know that the librarian in New College who helps Laurel locate some important papers is doing a one-year traineeship before her MA - no, I don't think so.
The downside of over-abundant detail is that it lengthens the book so much that by the time the secret is revealed - and it's a goodie - some of the odd little clues the author has seeded along the way are likely forgotten. I found myself flicking back through the pages to tie off an end left loose because I couldn't recall the incident Morton was referring to.
That aside, this generational saga has all the ingredients of a bewitching summer read - there is great passion and tragedy, lies, betrayal and heartache, all bound up in the secret Laurel delves into.
The play of past on present is still a staple plot for Morton, but four books in she continues to keep it fresh. There's something almost comfortingly old-fashioned about her writing, reminiscent of authors such as Rosamund Pilcher and Mary Stewart. She knows how to tell a story at a gentle yet still compelling pace and how to fit together a mystery without giving away its ultimate twist.
Some fans of her previous work might struggle with the beginning of The Secret Keeper as the various strands of the story seem so disparate that it gives the book a choppy feel, but it all folds together so brilliantly in the end, it's worth staying with it.