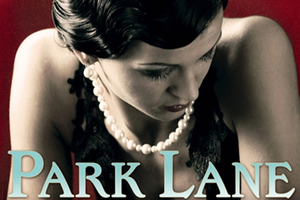 "Hang on," I thought, as I finished the first chapter of Park Lane. "I've read this before."
And it did seem familiar. Early morning, housemaid creeps upstairs with heavy coal scuttle to light fire in young mistress' bedroom, Y.M. still asleep in silken sheets after heavy night out in London society ...
But I hadn't read it. I'd seen it. Shades of Upstairs Downstairs (with or without the comma), Downton Abbey, and any other number of have-have not television costume dramas.
And so the novel progresses (even the name is a clue). Grace Campbell from Carlisle takes a position with the Masters family at 35 Park Lane, a mansion provided by the foresight of an ancestral railroad baron. Miss Beatrice Masters is the youngest child of Lady Masters and her profligate husband, who never appears in the book, save for the pronouncement of his death.
It is 1914 and the world is gearing up for a war. Britain is gearing up too, for women's suffrage.
Grace and Beatrice's lives become intertwined, although more by accident than design or a desire to know each other better.
Beatrice meets Michael Campbell at a suffragettes' rally when he saves her from arrest. She becomes involved with the suffrage movement, thanks to her maiden aunt, and takes part in pamphlet delivery, stone throwing and house burning.
Grace, meantime, moves through the servants' ranks, falls in love with Joseph the footman, steals subversive books for her brother, and fights to keep that feisty Cumberland tongue under control.
War arrives, Beatrice becomes an ambulance driver on the Western Front, and Grace leaves the Masters house suddenly and silently.
Described thus, the novel appears pretty prosaic. What sets it apart from others of its type is Osborne's depictions of the fight for emancipation and the right of women not just to vote but to sit on a court jury, to own property independently and to have access to education equal to that of males.
Her descriptions of the force-feeding of hunger strikers, the perfidy of the so-called Cat and Mouse Act (where women hunger-strikers were released when close to death, only to be re-arrested when they recovered) are harrowing. Emmeline and Sylvia Pankhurst are depicted convincingly, and the determination of all those women involved is not to be doubted.
The war ends, Grace is found and reunited with her brother (for so Michael is), the still unmarried (oh the shame) Beatrice goes to New York, and all is well.
Osborne clearly has an affection for and profound knowledge of the period, and this is demonstrated in Park Lane. It is still, though, a lightweight effort where heavier feet have trod.
Phoebe Falconer is an Auckland reviewer.