The latest London venture of New Zealand-born restaurateur Margot Henderson features a healthy dose of Kiwi flavour.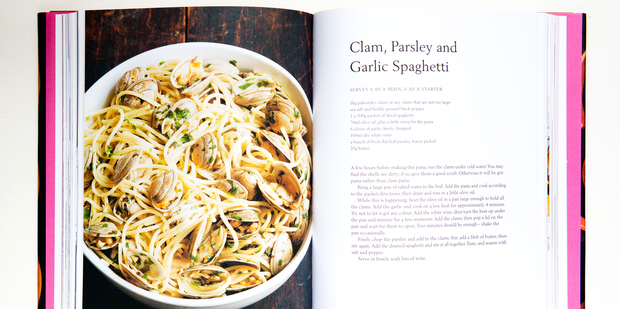 From the moment you press the buzzer to gain entry into its secluded grounds, you feel like you're being introduced to one of London's best-kept foodie secrets when you visit Rochelle Kitchen. Based in a converted bike shed in a former Victorian school-turned-art space just off Shoreditch High St, it has become one of the East End's leading dining destinations despite not being able to open in the evenings or at weekends. But, as its Wellington-born co-owner Margot Henderson declares in her debut cookbook You're All Invited, the afternoon is surely the best time of the day for a hearty feed.
"It's that cheeky moment," she declares when I when I meet her on a baking-hot late summer's day. "You might decide to go out for lunch and then not go back to the office. You've also got more energy for a proper meal. If I were going to La Gavroche, I'd rather go there for lunch than dinner, as you want to eat more. There's also nothing better than sitting outside, eating lunch in the sun."
Over the course of our two-hour conversation, the 47-year-old certainly shows a healthy appetite.
Drawing from a menu that changes daily, I begin with some bobby beans topped with anchovies, a duck egg and a tangy sauce while Henderson opts for the kohlrabi, cucumber and chervil salad. For my main, I have lemon sole with parsley and capers with some new potatoes on the side, while for Henderson it's the squid. "Dinners are great in the evening but it's good to wind down then and have something a bit lighter," she says. "I enjoy food more during the day and probably wouldn't have eaten as much at night as I just ate."
The daughter of author Pauline Harper, who wrote two books about the eating houses of Wellington and Canterbury in the 1970s, Henderson was introduced to fine dining at an early age. "We ate in restaurants a lot because she was always researching them," she recalls. "I absolutely loved them from the beginning. There were a lot of quite serious French restaurants in Wellington back then and I remember going to one after I'd finished my School Cert exams and having frogs' legs for the first time. They're mostly all gone now because we thought they were all too snooty and we wanted casual, but they were really proper."
After leaving school and studying English at Victoria University for "about one second", Henderson began learning her craft at several Wellington establishments including Java, Pierre's and the Mexican Cantina. "I had a lot of jobs at the same time," she says. "I learned a lot but I wasn't really serious about cooking back then. I liked cooking and the power of it. You could invite your friends around and cook a meal for everyone. I really enjoyed cooking at home and in restaurants, and I really liked the buzz of restaurants."
She moved to London nearly 28 years ago and met her future husband, Fergus Henderson, while working at the Eagle pub in Farringdon. With Jon Spiteri, they opened their first restaurant, the French Dining Room above a pub in Soho in 1992.
"John was front of house and Fergus and I were in the kitchen, falling madly in love," she laughs. "It was a snogathon! I got quite cross with him because he was originally an architect and he was used to cooking gorgeous meals, but there's a lot more to cooking in a restaurant than that. There's also lots of cleaning and organising."
Fergus and Spiteri soon left to start the now legendary St John Bar and Restaurant, leaving their partners to run the French House until its closure a few years later. Henderson then teamed up with Spiteri's wife, Melanie Arnold, to open Rochelle Canteen in 2006, primarily as a site for their now-flourishing catering business.
"To begin with it was just the two of us, so Mel was washing dishes and waiting and I was cooking," says Henderson. "We had one big table with a tablecloth on it and people would come from the building next door. We had three dishes that I was cooking each day, like quails and pasta. Whatever it was, it was really straightforward. Then we suddenly realised that it was getting busier so we bought some individual tables. It's just kept growing ever since and we've now got a cool-store and a proper head chef."
Renowned for his love of offal and advocacy of so-called nose-to-tail eating, Fergus has had a profound impact upon Henderson's personal and professional life. "I've always been his No 1 fan," she says. "I was still boning out quails and chopping things up. Fergus taught me brilliantly. He had this whole idea, that you cook something whole and simply and the way it was bred, and let the ingredients speak for themselves. He's very much into the genius loci - where you are in a time and a place. Everybody is into buying local now but when I first started cooking for him, it was quite unusual to just cook from the produce that's around you and not get it shipped in. But sometimes you can go a bit far with that as I saw some pineapples down the road earlier today and I thought it would be nice to do something with them."
Married for 18 years with three children, the pair are now based in Covent Garden, across the road from Peter Gordon's phenomenally popular Kopapa. "It's such a great addition to the area and it's busy all the time," says Henderson. "I love eating there and I get a little warmth of pride every time I walk past it."
Living in the heart of the West End means that meals have to be kept simple, something that has fed into We Are All Invited. "We have quite a small kitchen with a tiny fridge so you have to buy stuff almost daily and can't store it up," says Henderson, who often has to cope with rapidly expanding numbers at their famous dinner parties.
"People always call up and say 'can I bring someone?' A friend of my mother-in-law's suggested the title for my book. It seemed to fit perfectly because that's basically been our life since we met. It's that thing where you invite eight people for dinner but half of them might not get back to you straight away, so you ask somebody else and then the original people say they can come as well so it ends up being a case of 'you're all invited'."
With recipes like bacon and egg pie, feijoa icecream and her mother's brown bread, there is a distinct New Zealand flavour to You're All Invited. "It's amazing that you can live more than half your life somewhere else and still feel very much like a Kiwi," says Henderson. "Silverbeet is my favourite vegetable in the world and, if you cook it properly, it's fantastic with the stalks and everything. I also think that I've taught London about what pumpkins you eat and don't eat. We've recently started getting really good pumpkins here but it was mainly animal fodder for so long. Also, just the relaxed nature of Kiwi cafes with gorgeous scones, and I love whitebait and all that seafood as well. It's just the general way we were brought up. We'd have these big family gatherings with crazy salads and roast legs of lamb. That was always a big influence."
* You're All Invited by Margot Henderson, $55, distributed in NZ by Penguin Books.