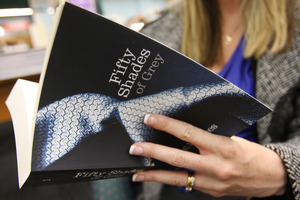 The Chief Censor has ruled there should be no restrictions on sales of the saucy best-seller Fifty Shades of Grey, which he says has limited literary merit.
The book published in June 2011, about a young university student and her love affair with an older business tycoon, has sold millions of copies worldwide and has topped best seller lists for the last 20 weeks.
Chief Censor Andrew Jack received a complaint about the book, prompting his ruling.
He said the book was submitted to his office because of a concern regarding the book's availability to readers of any age.
The novel, which has been dubbed "mummy porn", is aimed at women and explores a dominant/submissive romantic relationship.
"Although it has limited literary merit, Fifty Shades Of Grey is a publishing phenomenon that has become part of popular culture," Dr Jack said.
There was dominant/submissive behaviour within the characters' relationship, but Dr Jack said that was unlikely to seriously disturb adolescent readers or influence their behaviour.
- APNZ