Uniting such complex threads is a notable achievement, says Nicky Pellegrino.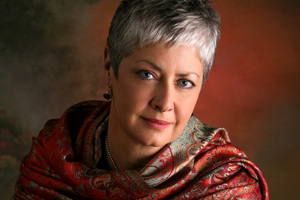 It has a blinder of an opening that hooks you from the very first line, it's set in a fascinating era, and has a lead character you're certain is going to take you interesting places. In The Kingdom Of Men by Kim Barnes (Hutchinson, $34.99) is evocative, with gorgeously described landscapes and rich, sensitive prose.
Set in the 1960s, it's the story of Gin, a self-described "barefoot girl from red-dirt Oklahoma". Orphaned, she is left in the custody of her grandfather, a strict Pentecostal pastor. Her youth is pretty wretched and so, when she's asked out by former prom king Mason McPhee, one thing quickly leads to another. Gin sins and finds herself pregnant.
Mason does the honourable thing and marries her. He is an ambitious young man, going places, and takes her along with him. When she loses their baby he accepts a job working as a drilling foreman in Saudi Arabia for Aramco (the Arabian American Oil Company), promising her a dream life.
Gin arrives to find her new home as restrictive as the old. While she is fascinated by the local culture - in particular the Bedouin - she is discouraged from roaming beyond the American compound where everything is laid on for her in air-conditioned, sanitised luxury.
"We are your home away from home and you'll never find a better one," she is told by an Aramco executive.
From the outset there is a mystery. What happened to the previous occupants of their house who disappeared so quickly they left all their belongings behind? At first, Gin is too dazed by the marble floors and servants to question much. She falls in with chain-smoking, cocktail-drinking Ruthie Doucet, who keeps her amused with the local gossip while Mason is away working the rigs.
Nevertheless, life as a company wife is lonely. Aside from Ruthie, her main companion is her houseboy, Yash, who does what he can to help her stay out of trouble. But what Yash describes as "the education of Mrs Gin" is an uphill battle with the independent wife chafing against the constraints of her husband's expectations and the culture in which she is living. As Gin derails the novel seems to lose its way and unfortunately the finish is nowhere near as dynamic as the beginning.
Nevertheless, this is an absorbing and original tale. Barnes, who had an aunt that was an Aramco wife, says it was complex to research; a dizzying list of sources is appended. Teasing a story out of so much detail, juggling themes of oppression, corporate imperialism, feminism and more, capturing a disappeared world so vividly, is no small achievement. It's an enlightening history lesson and a rewarding read.