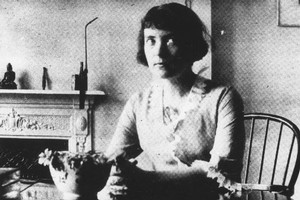 A young United Kingdom student has reportedly uncovered four previously unknown stories by New Zealand literary great Katherine Mansfield.
Chris Mourant, a 23-year-old PhD student, spotted the new stories while carrying out research at King's College in London, The Independent reported.
The collection had been overlooked despite having a place in the university archives.
One of the stories, A Little Episode, is dated from 1909 and reveals an emotionally turbulent and previously mysterious period of the writer's life.
It gives insight into a love triangle involving Mansfield, a musician who abandoned her after making her pregnant and the teacher who she then abandoned on their wedding day.
The writer had tried to cover up the affair by destroying all her personal papers from that year.
Mourant took the four stories to researcher Gerri Kimber, who was about to publish a complete edition of Mansfield's fiction with co-editor Vincent O'Sullivan, The Independent reported.
Dr Kimber said her "jaw dropped" at the find.
She included the stories as an appendix to the edition at the last minute.
Discovering the 2500-word story A Little Episode was particularly groundbreaking, Dr Kimber said.
It gives insight into Mansfield's animosity toward musician Garnet Trowell, who got her pregnant and then rejected her, Dr Kimber said.
"No true scholar wants to mix biography with fiction. But you have to in this case.
"You see the bitterness that she feels against Garnet... and their unborn child, as perceived in the callous portrayal of a musician called Jacques St Pierre."
Mansfield, who died of tuberculosis in 1923, is one of New Zealand's best known and well-loved authors.
She is known for perfecting the short story form in works such as The Garden Party, The Doll's House and The Fly.
Her writing has never been out of print.