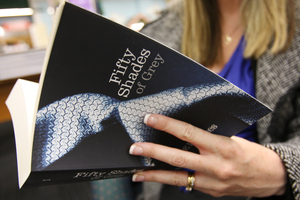 She describes her books as "romantic fantasy" stories, offering women a "holiday from their husbands".
And it seems millions are taking EL James at her word - with her explicit novel Fifty Shades of Grey now the fastest selling paperback since records began.
The novel, the first instalment of an X-rated trilogy, has beaten JK Rowling and Da Vinci Code author Dan Brown to the UK record.
At first, most sales of The Fifty Shades series were of the more discreet ebook version.
But, as the trilogy's popularity has soared, physical book sales have taken off.
Last week alone, the first instalment sold more than 100,000 paperback copies - a feat most of the Harry Potter books and all of the Twilight novels failed to achieve.
Fifty Shades of Grey has been Britain's best-selling book for nine weeks, while the trilogy has held the top three spots on the UK paperback book chart for the past six weeks.
In New Zealand, libraries and bookstores are struggling to cope with demand for an erotic novel described as "mummy pornography".
Requests for the first book last week left Auckland Libraries with a waiting list of 1097 people requesting just 117 copies.
The novel, along with the second and third volumes Fifty Shades Darker and Fifty Shades Freed, vividly details a dominant-submissive affair between virginal college graduate Anastasia Steele and manipulative billionaire Christian Grey. It has been banned in some United States libraries for its explicit sexual content.
Yvonne Thynne, publicity manager at publisher Random House NZ, said there had been at least six reprints of the trilogy, and sales were estimated at 90,000 copies.
Experts say the success of the racy books has been driven by frustrated middle-aged mothers.
Philip Stone, who compiles book charts for The Bookseller magazine, said their reputation had been spread "totally through word of mouth".
"It is highly unusual for a book to sell so well without there being a film adaptation or the author being well known, like Dan Brown or JK Rowling," he said.
"Clearly it has become acceptable for something like this to be talked about openly."
A spokesman for Nielsen Book-Scan, which compiles the official chart figures, said "the success has not been driven by people who regularly buy books, but by people who buy maybe three or four books a year.
"The books have crossed into the mass market. Clearly, people aren't embarrassed by it any more."
The books were written by English mother-of-two Erika Mitchell, 49, using the pen name EL James. She initially posted the tales on the internet as fan fiction based on the Twilight books.
Two years later, she is said to be worth almost $NZ8 million after signing book deals on both sides of the Atlantic and a Hollywood movie contract a few months ago.
And Mitchell, who has been married to scriptwriter Niall Leonard for 25 years, claims fans have written to thank her for spicing up their marriages with the books.
- NZ HERALD, DAILY MAIL