Jubilee by Shelley Harris
Weidenfeld & Nicholson $36.99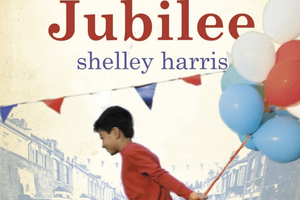 Shelley Harris' remarkably assured debut novel is rooted in the Silver Jubilee celebrations of June 1977. Cherry Gardens, in a small Buckinghamshire village, is throwing a street party. Union Jack bunting is festooned from house to house; trestle tables will carry the vat of unappetising coronation chicken and cakes iced in red, white and blue, as well as the scrumptious chakli contributed by the Patels, who had come to Bourne Heath fleeing Idi Amin's violent expulsion of Asians from Uganda.
"Do let's remember this is a particularly British celebration," antique Miss Bissett had sniffily objected to Mrs Patel's culinary offer. Her simple, patriotic reply prompts an awkward pause for the organising committee: "I am British now. She's my Queen too."
Dismissing the chakli is a patronising affront. The street's children are a bit more direct. Young Satish Patel seems to have good friendships with most - but even Cai, his closest pal, doesn't see any injustice in the nickname Splatish, coined by Chandler, the bully, to remind Satish that he is "a little skid mark on the whiteness of Bourne Heath".
Such instinctive, approved prejudice, both condescending and aggressive, is the central artery of Harris' shrewdly observed novel. It pumps a small shot of anticipatory tension into the street-party preparations and a heavier shot into the present life of Satish, who has become a well-respected paediatric cardiologist at a London children's hospital. Thirty years on, Chandler has resurfaced. He wants Satish to join in the lucrative restaging of a photo of the street party that became iconic and made a fortune and career for the local paper's snapper.
Satish retains the scars of the jubilee celebrations, which have modulated into a habit of self-effacement that hides a degree of emotional cauterisation. One of the triumphs of this slow-burning plot is the certainty that something unpleasant will occur during the party, which Harris binds seamlessly with the older Satish's horror at having to relive the incident.
There's a curatorial atmosphere to this novel's use of a photo which recalls Jon McGregor's intricate debut, If Nobody Speaks of Remarkable Things. Also set in a single street, McGregor's measured prose looped in and out of neighbouring lives, weaving domestic upsets and private considerations into a richly textured work. So here, Harris drops sufficient hints of back-story - infidelity, deceit, failed promise, enchanting success - into her characters' interactions. The pitch-perfect children's banter and accurate period detail lend authenticity to her prose.
At heart, Jubilee is a love story, but one whose transgressive origins precipitate the scarring of Satish's childhood. Harris' neat closure offers an ache of frustrated ardour that eclipses the settlement of old scores.
It gives balance to an exciting debut that suggests this author will offer many more insightful and compelling stories in the years ahead.
- INDEPENDENT