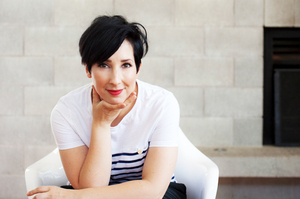 TV presenter Jaquie Brown is the author of I'm Not Fat: I'm Pregnant (Random House, $45).
The book I love most is ... I can't answer that question without offending 99 per cent of my lovely book collection. I'll try though. At this exact moment it would be Caitlin Moran's How To Be A Woman. She is whip smart, funny as hell. I devoured that book like chocolate cake.
The book I'm reading right now is ... Mindy Kaling's Is Everyone Hanging Out Without Me (And Other Concerns). It's hilarious. She reminds me of me, if I were funnier and had a better vocabulary.
The book I want to read next is ... Tina Fey's Bossypants. I had it as an audio book but my iPod shuffle kept playing it out of order and I couldn't work out how to get it to the beginning. I'm not very good with technology, obviously. So I'll scrape together some pennies and buy a copy.
My favourite bookshop is ... I am fond of Dear Reader in Auckland's Grey Lynn.
The book that changed me is ... I always bang on about Brave New World by Aldous Huxley but, honestly, every book I read changes me a bit. I get stuck in the author's world for the duration and take a little piece of each story with me.
The book I wish I'd never read is ... I don't regret reading any books, really, but there is some filth floating around my mind from all the Irvine Welsh books I read in my 20s.