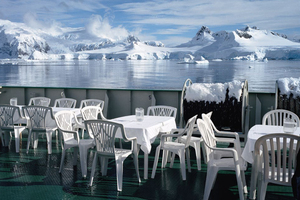 Ice Blink: An Antarctic Imaginary
by Anne Noble, with an essay by Ian Wedde
(Clouds $69.95)
Reviewed by Peter Simpson
The Antarctic Arts Fellowship programme has enabled several New Zealand artists to visit Antarctica and express their experiences artistically according to their chosen medium. One to make the most of the opportunity is photographer Anne Noble, who first visited the continent in 2002, with return visits in 2005 (on the cruise ship Akademic loffe) and 2008.
In addition, in 2003 she photographed Antarctic centres and aquaria in Japan, the United States, England, Scotland, Norway, Australia and Singapore. Out of photographs taken on these visits (and in New Zealand centres such as the International Antarctic Centre in Christchurch and Kelly Tarlton's Antarctic Encounter) Noble has assembled a trilogy of projects, of which Ice Blink is the first to be published in book form.
It will be followed in due course by At the End of the Earth and Whiteout/Whitenoise which will also be published by Clouds Publishing.
A clue to Noble's perspective in this hardback, landscape-format book is a note by her which reads (in part): "When we look at Antarctica, from the deck of a ship, or in a make-believe tableau, and fix it in our gaze, what we see is a figment of the imagination.
"The sight we encounter is a sight already seen, image upon image fixed in the shadow of our dreaming by the medium of photography itself."
In other words, do not expect naive images of sublime ice landscapes or photogenic penguins as in a National Geographic spread, for example, but rather images which provide a subtle reflection on how Antarctica has been depicted by photographers of the "heroic age" - especially Herbert Ponting and Frank Hurley - and by innumerable others ever since.
Her images are as much about photography as a medium and how it shapes human consciousness as they are of objects and creatures in the Antarctic landscape.
Ian Wedde's densely argued essay helps further to unpack these ideas.
More than half the images in the book are not of Antarctica itself but of the way it is packaged for entertainment and education in Antarctic centres around the globe. Many show people looking at the displays as well as what is displayed, often with cameras in hand, further underlining the emphasis on the act of seeing as much as on what is seen.
Others, taken on the continent itself or from the safety and comfort of a tourist ship, explore the ironies and ambiguities of tourism in such an environment.
In one especially vivid image, Wilhelmina Bay, taken from the deck of a ship during the "11 Spectacular Days Antarctic Tour", the upper part shows a typically spectacular scene of snowy mountains and icy waters, while the foreground shows white plastic chairs and tables covered with white cloths on the ship's deck.
Visually arresting, it is at the same time haunting and thought-provoking, qualities which are present everywhere in this fascinating book.
Early New Zealand Photography: Images and Essays.
Edited by Angela Walhalla and Erika Wolf
(Otago University Press $50)
Reviewed by Peter Simpson
This book originated in a symposium on "The Rise of Photography in New Zealand (1839-1918)" held at the Hocken Collections, University of Otago, in 2007. Why it took quite so long for the book to emerge is not explained but its publication is welcome because no such book has appeared before. There have of course been histories of photography (such as that by David Eggleton) and researchers such as William Main and John Turner have fossicked productively in early photographs, but this book is evidence that a new professionalism has emerged in the study of photographic history in New Zealand and many of those involved have contributed essays to the book.
With one exception (Christine Whybrew, an authority on the Burton Brothers studio, who contributes two) each of the 24 essays is by a different author, including photographers such as Wayne Barrar and Gary Blackman, academics such as Roger Blackley, Anne Maxwell and Rebecca Rice, and collection curators such as Jocelyne Dudding, Keith Giles and Ruth Harvey. The editors both teach at the University of Otago.
The format of the book is that each short essay (five to seven pages) is a study of one or two photographs or groups of photographs which are reproduced with the essay. The emphasis is less on photographs of great aesthetic quality or on the biographical histories of the photographers than on the wide range of photographic types and practices in the period, including daguerreotypes, ambrotypes, albumen prints, cartes de visite, stereo views, photographic albums, postcards, illustrated magazines and reproductions in books. Among the photographic genres discussed are studio portraits, documentation of public works, tourism, amateur experiments, ethnographic images and medical case records.
All the essays are worth reading, but some which stood out are Ken Hall's comparison of the Foy Brothers' brilliant carte de visite of a Maori mother (Ana Reupene Whetuki) carrying her baby on her back and the numerous paintings (up to 30) based on the photograph by Gottfried Lindauer; Barbara Brookes' account of the use made of photographs of patients at Seacliff Asylum by Dr Truby King; and Sandy Callister's analysis of an amateur snapshot taken by a soldier at Gallipoli and published in the Auckland Weekly News.
The book includes a useful annotated directory of New Zealand photographic collections and an extensive bibliography.
It is an unfortunate oversight that the striking photograph of a young woman holding a photo in her hands used for the cover image is nowhere identified or acknowledged.
Peter Simpson is an Auckland reviewer.