Frontrow offers an encouraging sting on paper, and the rest are good too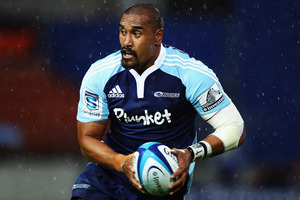 Tony Woodcock returning to base, Jerome Kaino on the prowl once more - the market is looking brighter for the Blues and All Blacks even if Rene Ranger is slipping the leash.
Throw in the carnival attraction of Benji Marshall and there is already a strong marketing thread for new CEO Michael Redman as he sets about the financial overhaul of the Blues.
Before we get all too warm and fuzzy we should adopt the Emirates Team New Zealand strategy which has also served the All Blacks exceptionally well. It is wise not to get ahead of ourselves.
Remember all the optimistic hoopla about the Highlanders this season and what they weren't going to do to the Super 15 series?
Three wins and a second-to-last finish ahead of the Kings was simply inglorious, especially with 11 All Blacks among the squad. The Highlanders' patterns and structure were messy.
A frontrow of Woodcock, Keven Mealamu and Charlie Faumuina with a backrow of Steven Luatua, Luke Braid and Jerome Kaino offers an encouraging sting on paper.
Kaino has been assessed recently in Auckland and needs six weeks to recover from a partial rupture of a knee ligament but his deal with the Blues should be official soon.
The squad has solid backup too, with Angus Ta'avao, James Parsons, Tom McCartney up front and Peter Saili covering the loosies.
Behind the scrum there are men like Piri Weepu, Francis Saili, Jackson Willison, George Moala, Frank Halai and Charles Piutau to create the venomous enterprise.
The voids are in the middle row and five eighths.
Senior first receiver Chris Noakes is improving after neck surgery, Baden Kerr is lolloping along with Counties' Ranfurly Shield challenges while Marshall is a project for the array of Blues coaches.
Beauden Barrett rebuffed the chance to shift north and none of the kazillion five-eighths in Canterbury want to move.
Nor any of their locks. Dominic Bird opted out last year although former All Black Tom Donnelly might be tempted for a season.
His experience would help replace some of the second row knowledge and expertise which disappeared overseas with former All Blacks Ali Williams and Anthony Boric.
Liaki Moli, Culum Retallick and Ronald Raaymakers remain from this year's roster. Moli has the attributes to make it but the staff want him to garner a sharper match temperament to his athletic skills.
Young lock Patrick Tuipulotu is on the radar for next season but his jaw was broken in two places in Auckland's midweek match with Northland.
His recovery is expected to take several months, much like loose forward Joe Edwards whose shoulder was dislocated in the same match.
Coach John Kirwan has expressed some confidence in finding another lock or two to help but whether that is because he knows about some senior help from somewhere, thinks he can nail a tyro or two or remains wishful thinking, will be revealed in a month or so.
A more immediate All Black disclosure will come in a week with a decision about Richie McCaw's fitness for the last Rugby Championship test with the Springboks.
McCaw and the 28-strong squad board a plane today for a trip via Chile to Argentina and their Mar del Plata test with the Pumas.
The All Black flanker has begun running strongly but is cautious about putting too much load on his injured knee with sharp changes of direction. The medical staff will be able to monitor his training for a week and then make a better judgment about whether he will be fit to play the Springboks.