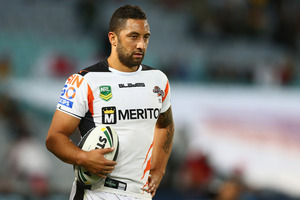 The Blues want to talk to double rugby-league international Mat Rogers to help Benji Marshall ease into the 15-man code.
While the Blues have plenty of rugby league knowledge to help Marshall with his transition to Super 15 next year, one former league convert to rugby - Blues backline skills coach Grant Doorey - says a chat with Rogers would be useful.
Rogers was the most recent player to make the same code and positional switch as Marshall. At some stage, they would like to chat to him and others who might have had similar experiences.
"He worked close to the ruck and we would like to find out what his biggest challenges were and, if he had a second crack at it, what he would do differently and what worked for him," Doorey said.
"There is not a lot of research out there that you can tap into. But I am sure Benji has got a lot of knowledge and can take confidence from that. He played age-group rugby for New Zealand so that base is still there."
Coach Sir John Kirwan had a playing stint with the Warriors, his assistant Mick Byrne was brought up on the game in Sydney before switching to AFL and backline skills coach Grant Doorey was a back rower for Manly and Easts. Sir Graham Henry is the only member of that prestigious coaching group who has not played league.
"We will all have to talk about a plan we need to put around Benji so that he gets the best advice and help on making his switch," Doorey said. "Part of it is understanding where he has come from and what he feels he needs to learn most in making the change.
"He has a great set of skills, he has played almost 200 games for Balmain and shown great ability throughout that career, so he understands the demands of top level sport. He strikes me as being someone who will learn far more by playing games than being instructed on how to play rugby."
Marshall severed his lengthy one-club association with the Tigers after differences about the details in his contract. He said he would not play league against the Tigers while his desire to shoot for the All Blacks or sevens at the Olympics suggested the Blues were his best option. That became official yesterday with Marshall purported to have signed on with the Blues in a $500,000 a year multi-layered deal.
"We will just open our eyes and open our arms to Benji and listen to what he knows," said Doorey, "and what he thinks it will take to get him up to speed."