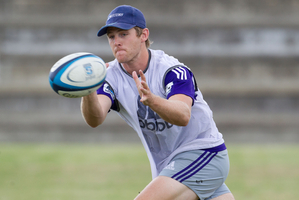 The Blues' first five-eighths intrigues have taken another turn with Chris Noakes heading for neck surgery.
He will miss the ITM Cup season but medical staff expect he will be fit to take part in next year's trial games before the start of the Super 15 series.
That news is the latest instalment in the Blues' selection mysteries, after Beauden Barrett announcing yesterday he is staying with the Hurricanes and Benji Marshall expected to sign on tomorrow.
Adding to that, Richard Clarke is expected to swap his chief executive role at the Breakers for the same job with the Blues.
Noakes may have surgery as early as next week to rectify his prolapsed disc. "He's been going through all the options and basically we could sit tight and see if it resolves itself in six to 12 weeks' time," team doctor Stephen Kara said.
"But given the size of the bulge, we don't think it's going to heal without some intervention."
Noakes survived some initial problems early in the season but aggravated them in a gym session on the Blues' trip to South Africa.
"We think he did it in the gym when he was doing a chin-up. Subsequent x-rays showed wear and tear changes and it has been niggling for a while.
"Initially he had some numbness through his thumb but then he got pain down through the arm and that got worse."
Kara said the post-operation recovery period was usually about five months.
The surgeon would take a piece of bone out of Noakes' hip and fuse it at C5-6 level and remove part of the ruptured disc.
"He won't have any ITM Cup games and provided there are no complications, no infection, the bone graft takes and all those sorts of things, and psychologically he's okay, we expect him to be playing in pre-season again in February," Kara said.
Noakes was the only Blues player to need surgery after a campaign in which he played 12 matches, adding to the 13 appearances he had for the Highlanders in 2012.
Departing Blues lock Anthony Boric had surgery to replace an entire disc in his neck that season because he had wear and tear on either side, while Noakes didn't have that extra damage.
Meanwhile, the Blues are expected to reveal tomorrow they have signed Marshall for two seasons. He is picked to play in tonight's NRL match for the Tigers against the Eels in Parramatta.