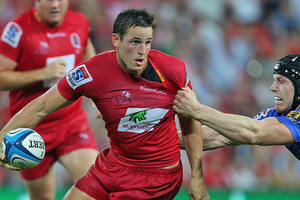 He couldn't play for them, but now a born-again Aussie is keen to play against the Aucklanders.
Blues reject Mike Harris finally gets to pitch himself against his old franchise tonight.
Two chances disappeared last season when Harris was injured and missed the sides' pool match and playoff tussle.
It's been close again this year, as Harris is only just back from a hamstring tear in what has been a recurring injury drama for a swag of Reds' five-eighths.
Quade Cooper, Ben Lucas, Harris, Jono Lance and Sam Lane have all been damaged in a crisis which has been worse than the Highlanders' dramas in the same position.
The Blues have had their five-eighths problems, too, but that has been of their making, arising from their indecision on whether Gareth Anscombe, Michael Hobbs or Piri Weepu should wear the No 10 jersey.
Harris nudged his case with the Blues, but could not break out of the wider training group.
Frustrated by his lack of progress, he used his Australian ancestry to accept a Reds recruitment offer last season.
"It's been a good move and a great opportunity," he told the Herald.
"We won the championship last year and that was a high; the decision has worked out so far."
What about the next stage, the Wallaby idea? Has Robbie Deans tapped the goalkicking whizz on the shoulder, given him a phone call about trying out in the test squad this season?
"No nothing like that at all. There are some tests in June coming up and like the others I'll just have to wait," Harris said.
"There was all sorts of hearsay and rumour last year that I was close to the Wallaby squad but until you make it, that's all it is."
He's been keeping up to date with the Blues' travails and points out a clutch of close defeats which could have gone the other way.
"They are a dangerous team, a bit of a sleeping beast and I hope they don't decide to wake up fully this round.
"They love using the ball and they have plenty of skilled players right through and if their offloads stick, they're really hard to stop."
The Reds had their battles as well. They had not toured as well as they hoped in South Africa and they were dealing with a few issues.
He was primed, though, for this game where he would number up against Ma'a Nonu in the midfield battles.
"He's always a real handful and was one of the All Blacks' best last year.
"It will also be great to get back for the first time in about six months and see friends and family and finally get to play against the Blues."
The former New Zealand Schoolboys and under-20s back has shown steady form and class goalkicking which have been a boon for the Reds.