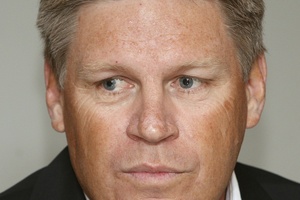 There are festering issues across the franchise which contribute to the dysfunction of the behemoth.
For the last eight years there has been a recurring inquiry about the Blues.
The thrust is, how could a region rich in resources and significant playing numbers perform with such modest results in Super rugby?
A fourth place finish for David Nucifora's mob in 2007 and a similar result for Pat Lam's crew last season. That's it, the best outcome for the Blues since they last annexed the title under Peter Sloane's command in 2003.
This season? Who would place a wager when the Blues are stalled in last place in the New Zealand pool and searching for their second win of the series.
There are festering issues across the franchise which contribute to the dysfunction. Those areas of responsibility can be split roughly into three - the Blues' chief executive and board are one group, the coach and his staff comprise another while the players make up the other.
It is a mesh where the Blues board and chief executive Andy Dalton drive the contract and recruitment ideas, coach Pat Lam and his group identify the players and manage the team blueprints while the contracted players are tasked with putting the plans into practice.
That interlocking jigsaw has its dramas.
Chairman Greg Muir, who is caught up in investigations into Hanover Finance, resigned last week after what the Herald understands became a testy standoff. The Auckland union asked another delegate to confront Muir but that approach was rebuffed and when eventually confronted, Muir apparently refused to quit. He was then told a press statement would be released announcing he had stood down.
A replacement chairman has yet to be announced and independent member Grant Fox has to step down due to his All Black selector's duties.
Meanwhile the Blues have made few market noises about recruiting players for next year's roster. At least 10 of this year's squad, led by Jerome Kaino, are heading to overseas contracts and with others showing they are marginal Super 15 talent, it seems unusual there has not been more activity from Blues officials in searching for new talent.
The Blues should know the pitfalls and system by now, they have stacks of experience as Dalton has been chief executive since 2006.
Lam is into his fourth year coaching the Blues and his results show a winning percentage just below 50 per cent. There have been some unusual squad picks and the well-documented selection struggles with first five-eighths.
This year, through hope, directives or belief, Lam opted to take on All Blacks who were out of shape, involved in club play in Japan or resting until round five. Those dynamics did not add up and bit even deeper when Jerome Kaino and Isaia Toeava were lost through injury for the season after two rounds and others like Ali Williams and Keven Mealamu failed to ignite.
Suddenly a bunch of raw or marginal Super 15 talent was thrust into action - think Sherwin Stowers, David Raikuna, Lachie Munro, Ben Lam, Brad Mika, Peter and Frances Saili, Pauliasi Manu, Tevita Mailau and Angus Ta'avao.
Then there has been the selection wavering from Lam, especially at first five-eighths. Was it going to be Michael Hobbs, Piri Weepu or Gareth Anscombe? All three had started in that role after five games. Those selection shifts signalled a lack of conviction while the game plans have not been regularly visible.
The players have not helped their cause. The longer the season has gone and the results have failed to arrive, the more self-doubt has infected the Blues.
Only loose forward Chris Lowrey has made an impression on the stats sheet after seven rounds but in a metaphor for the Blues his numbers are well down on those of the leading contributors.
The mistakes keep coming but so do the crowds and with more than 17,000 tickets sold for tonight, they are either the faithful, South Africans or those with a ghoulish streak.