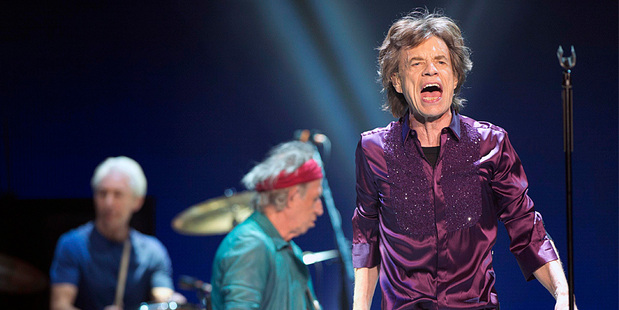 First we had P Diddy's Twitter tease that he would be joining the cast of uber-successful period drama Downton Abbey.
As it turned out, his cheeky revelation wasn't strictly on the money. In reality, the rap star, real name Sean Combs, appeared as a faux Downton regular in a craftily edited spoof video for US website, Funny Or Die.
Well, step aside Downton Diddy. You've been trumped. Per the rumour mill, some other A-list music talent is supposedly muscling in on your turf.
Truckload of salt at the ready, folks ...
According to a report in British tabloid The Mirror (via The Guardian) legendary rockers the Rolling Stones - who are said to be huge fans of the hit drama - are being touted for cameos on the show.
An "insider" chimed to the newspaper that Downton's Hugh Bonneville, aka the Earl of Grantham, is chummy with Stones guitarist Ronnie Wood, and is supposedly lobbying for the band to appear on the programme.
"Obviously they wouldn't play themselves, but they could be a rag-tag bunch of travelling entertainers or even a circus act," said the source.
"It would be such a coup, and fun for the Stones. They really are huge fans of the show."
Website shows.stv.tv also picked up on the Mirror's report (which, incidentally, doesn't appear on their website).
The source added: "It is common knowledge Hugh and others have grown close to the Stones. Some are even seeing them at Glastonbury.
"They have suggested several times that the Stones are offered the opportunity to pop into Highclere. There is hope that it could happen."
Last month, Downton star Laura Carmichael, who plays Lady Edith, dished to The Sun that the rockers - who are currently on the road with their 50 & Counting tour - are huge fans of the show.
"Hugh has been hanging out with Ronnie and they have been having a great time. They met doing charity work and Ronnie told Hugh how much they loved Downton," she was quoted as saying.
"Apparently they were stopping rehearsals on Sunday nights in time to get back to watch it."
So are the Stones really ready to go period?
Well, knock me down with a feather: A rep for the show tells Entertainment Weekly that the Stones won't be dropping by Downton anytime soon.
The rep also told Gossip Cop that she hadn't "heard a single word" about any plans for guest appearances.
Earlier this year, it was announced that Dame Kiri Te Kanawa will be appearing in the fourth season of the British stately home drama.
In other (slightly more grounded) Rolling Stones news ...
A rep for the rockers has put the kibosh on a report that Adele will join the band at their upcoming London shows.
The Sun had quoted a source as saying: "The Stones would love to get Adele on with them. It would be a massive coup, even for them, because she's been a bit reclusive since her son Angelo James was born."
During their current world tour, Mick Jagger and co have been joined on stage by a string of singers, including Sheryl Crow, Katy Perry, Dave Grohl and Taylor Swift.
"She is the name they want to announce as their special guest - and their invite should be special enough to get her out on stage," added the source.
"At the minute it's 50/50 that she'll do it, but Mick is quietly confident he can pull it off. They want to make the Hyde Park shows a highlight of their tour, and her appearing would make it really special."
However, the band's official spokesperson told The Guardian that Adele won't be joining the band under the lights for their Hyde park shows in July.
Check out video of Taylor Swift performing As Tears Go By with Mick Jagger during the band's Chicago concert on Monday below:
NOTABLE NUGGETS
* It's officially over: Kim Kardashian and Kris Humphries finalise their divorce.
* Singer Miguel's stage dive victim may have sustained a head injury in the mishap, says lawyer.
* Third time lucky? Katy Perry and John Mayer rekindle their romance two months after calling it quits.
* The Guardian is standing by the interview they published in which Michael Douglas talked about his battle with throat cancer.
* John Travolta is a wedding crasher.
* "I didn't realise that I would be wearing spandex" - Russell Crowe talks shaping up for Man Of Steel; Henry Cavill says Superman suit was hard to pee in.
* First look: Helena Bonham Carter and Dominic West as Elizabeth Taylor and Richard Burton in forthcoming TV movie.
* Justin Bieber, Channing Tatum is worried about you, man.
* Miley Cyrus singing about ecstasy on her new single? Nope, says rep.
* One more time for the cheap seats: Beyonce is "absolutely not pregnant", singer's rep tells Gayle King.
* Beyonce's song from the Epic soundtrack, Rise Up, has hit the web
- Rumour Has It