A report saying Tom Cruise was taken by surprise when Katie Holmes filed for divorce last year is 'made up', a representative for the actor claims.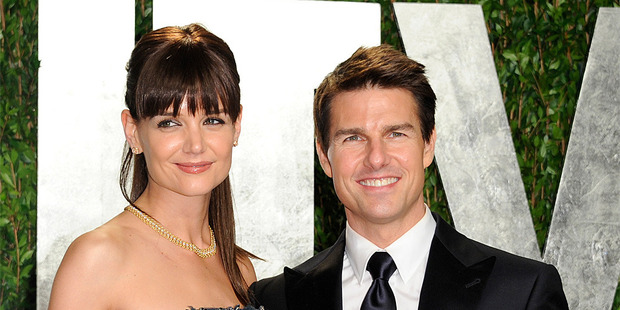 Tom Cruise has reportedly opened up about his surprise divorce from Katie Holmes last year, admitting, "I did not expect that."
According to E! News, the actor, 50, sat down with German TV station ProSieben to promote his new Sci-Fi flick Oblivion, and admitted he was surprised when Holmes, 34, filed for divorce on June 29, five days before his 50th birthday.
The couple, parents to six-year-old daughter Suri, settled their divorce just two weeks after the separation was announced.
"I did not expect that," the star was quoted as saying when quizzed about the split.
The actor reportedly went on to explain that the separation gave him "an incredible amount of time to reflect".
"Life is a challenge," he continued. "To be 50 and have experiences and think you have everything under control, and then it hits you. That's what life is...life is tragicomic. You need a certain sense of humour."
But here's the rub on Cruise's reported candour: According to the normally reliable folk over at Gossip Cop, many of the actor's comments "were taken out of context" and were "answers to questions having nothing to do with anything but his professional life".
A rep also noted that a large portion of the information that's circulating online was "made up."
Furthermore, ProSieben's interviewer, Steven Gaetjen, tells People.com that he never asked Cruise about Holmes or the divorce during their confab.
Since the divorce, Cruise, who was previously wed to actresses Mimi Rogers and Nicole Kidman, has thrown himself into work. Once the promo run for Oblivion is done, he'll move on to filming the sci-fi flick All You Need Is Kill.
Cruise also recently announced that he's "working on the story" for a fifth Mission: Impossible film, but declined to reveal any more details.
As for Holmes, she's also moved on.
Per a Radar Online report, the former Dawson's Creek star is "ready to enter the dating world and fall in love all over again".
"She's taken as long as she needed, but Katie now wants to start dating again," a "family insider" told the website.
"It's been a long process for her, because she was so careful not to get wrapped up in someone else so fast after splitting with Tom," dished the insider.
"She wanted to spend as much time with Suri and her family as she could - Katie made them her absolute priority immediately after the divorce.
"But now Katie feels it's time to go on some dates, see what happens, and take it nice and steady.
"Deep down, she is a hopeless romantic who would love to be swept off her feet by a knight in shining armour."
The actress recently shot down rumours that she is dating jazz musician Peter Cincotti.
Last month, Cruise's Rock of Ages director Adam Shankman told Us Weekly that Cruise and Holmes are "incredibly happy" since splitting last year.
"They are incredibly happy," said Shankman.
"I've just been emailing with [Tom]. He's coming back. He's shooting in London and seems as happy as a clam. I know he sees his daughter.
"Katie seems really happy. You just fight through all the noise. And it's noisy!"
NOTABLE NUGGETS
And finally...
* Scarlett Johansson is the cover girl in the May issue of Marie Claire, in which she opens up about her split from Ryan Reynolds (they went their separate ways in 2010, after three years of marriage), and her pet peeve when it comes to dating. Take note, fellas. If you're prone to jealousy, take a hike.
"I don't like jealous behaviour," she tells the mag. "I don't mind an occasional check-in, but when somebody is passive-aggressively jealous, it's really unattractive because it shows a sort of insecurity that is...Oh, controlling behaviour is awful. Nobody's going to say they love that."
She also shares her opinion on social media.
"All of it drives me crazy. I don't understand this need to 'share.' We almost exploit ourselves in order to feel seen."
* New do: Justin Bieber cuts his hair, Twitter no doubt on brink of meltdown. And chin up, Mally the monkey, the Biebs definitely wants you back.
* Comedian Russell Brand becomes the latest celebrity victim of 'swatting' prank.
* "Every move she made was charged by negativity" - Morrissey slams "barbaric" Margaret Thatcher after her death.
* Martha Stewart admits she once had a hunky actor obsession: "I was into Ryan Gosling for quite a while. I watched every one of his movies."
* Bradley Cooper replacing Jude Law in the troubled indie western Jane Got a Gun, according to The Hollywood Reporter.
* The lovely Michael J. Fox on why he's returning to TV.
* Sex and the City star Kim Cattrall says she's been on a diet...since 1974.
* Kanye West reportedly hit with new copyright lawsuit over Gold Digger track.
* Amanda Bynes hits out at report she was kicked out of NYC gymnastics class, threatens to sue.
* Sara Gilbert, former Roseanne star and host of chat show The Talk, announces she's engaged to singer Linda Perry after musical proposal.
Follow Myrddin Gwynedd on Twitter.
- Rumour Has It