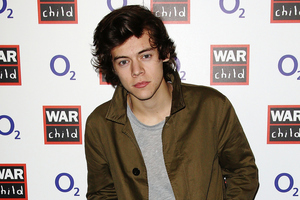 Cool your jets, Directioners. Harry Styles is not about to bail on One Direction and go solo.
Per a report in the Sunday Mirror, 19-year-old Styles "is recording his own songs and hopes to release a solo album".
The tab reports that the singer "has worked on early versions of the songs" during sessions at Paramount's recording studio in Los Angeles last week, while on a break from his band's sell-out world tour.
"He loves messing around with some of the new songs he's been working on," imparted a so-called "close pal".
"He's bounced some ideas off his friend Ed Sheeran and has ­already laid down some vocals."
While Styles may supposedly be looking to pull a Justin Timberlake and go solo, the source adds, "Harry's priority is obviously still with 1D. But when he decides the time to go solo has arrived, he's likely to have a project raring to go."
The tab also notes that Styles and bandmates Niall Horan, Zayn Malik, Liam Payne and Louis Tomlinson signed a "watertight three-album deal" with Sony, which reportedly states that "all five members will face financial consequences if one decides to quit".
On a side note, The Sun reported something similar back in January.
A source told the tab: "It's a really clever contract that the boys have signed up to. It means they have a real incentive to tough it out and stick together.
"The formal length is for 36 months and an album a year - but the clever part is they get the big pay day after the three years.
"If one of them walks away before then, then all five miss out on the money. They don't miss out on a few quid either, we are talking millions.
"They all get on really well, but it would be the kind of deal that would see them through the worst aggro possible."
But here's the rub on the Mirror's report: A spokesperson for the band says that while Styles may have been hitting the studio as a party of one, there's no solo album in the works.
"Harry is not recording solo material. All of the band are working on tracks for their third album. Harry is putting together some ideas for the record," the rep told Mail Online.
"The boys sometimes work up ideas separately as well as working together, as they did last year. Niall for example recently collaborated with Tom and Dougie from McFly on new tracks."
Styles also addressed the "going solo" rumours on Twitter.
Asked by a follower if there was any truth to the rumbles, he replied, "No not at all, I missed a recording session that's why I was in the studio in LA catching up .x".
Rumour busted.
NOTABLE NUGGETS
And finally...
* Madonna's estranged brother speaks out, claims the pop matriarch "doesn't give a s**t if I'm dead or alive. She lives in her own world".
* Glee star Cory Monteith checks into rehab for substance addiction, rep confirms; Lea Michele sends "love and support" to boyfriend and co-star.
* Amanda Bynes goes off on another bizarre Twitter rant.
* Justin Bieber's pet monkey seized in Germany.
* Angelina Jolie makes it clear she's not married to Brad Pitt...yet.
* Lady Gaga gets herself a custom-made Louis Vuitton wheelchair.
* Let the hookup rumours begin: Taylor Swift "desperate" to meet Prince Harry when he tours the US.
* Arnold Schwarzenegger and estranged wife Maria Shriver reunite over Easter.
* Queen legend Freddie Mercury snuck Princess Diana into a gay bar dressed in drag, comedienne Cleo Rocos writes in memoir.
* "I can't make everybody like me" - Chris Brown talks handling detractors, confirms he's still dating Rihanna.
* Rivers of snark: Scalpel-tongued comedienne Joan Rivers won't back down from those cruel comments she made about British songbird Adele's weight on The Late Show With David Letterman back in February.
Rivers was asked during a HuffPost Live interview last week to defend her comments.
"It's not mean. She's a chubby lady who's very, very rich, and she should just calm down - or lose weight! She wanted an apology, so I took an ad out on her a**. I said, 'You are not fat.' And then I had room for a lot of other ads," Rivers sniped.
"Adele is beautiful and successful and has what, $100 million? Let's face reality: she's fat!"
Check out video of Joan's interview here.
Follow Myrddin Gwynedd on Twitter.
- Rumour Has It