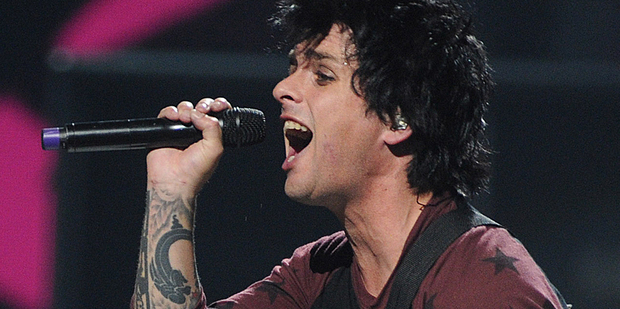 When Billie Joe Armstrong says he is not Justin Bieber, believe him.
The Green Day frontman went on a profanity-laced rant on stage at the iHeartRadio Festival in Las Vegas on Friday - because his band's set got cut short.
According to scandal sheet TMZ, Green Day's 45-minute set was reportedly cut short when organisers realised they were running 25 minutes behind schedule.
Clocking a one-minute warning sign in the back of the arena during the band's 1994 hit Basket Case, Armstrong stopped singing and went off on one.
"Oh, f*** this s****. I'm gonna play a f***ing new song. Give me a f****ing break," he howled.
"One minute left. One minute f***ing left. You're gonna give me one f***ing minute? Look at that f***ing sign right there - one minute."
He continued, "Let me f***ing tell you something, let me tell you something, I've been around since f***ing 198-f***ing-8. And you're gonna give me one f***ing minute? You've gotta be f***ing kidding me! You're f***ing kidding me.
Justin Bieber (who wasn't performing at the event) also got a special shout-out.
"What the f***! I'm not f***ing Justin Bieber, you motherf***ers...I got one minute - one minute left. Oh, now I got nothing left. Let me show you what one f****ing minute f****ing means.
And on that note, Armstrong, with another band member following suit, proceeded to smash their guitars on the stage.
"One minute. God f***ing love you all. We'll be back," he declared, before flipping off the camera and storming from the stage.
A source told E! News: "Billy was backstage laughing and the fans loved it. A very rock 'n' roll moment."
Rock 'n' roll? Watch the full rant below and judge for yourselves.
Update: Billie Joe Armstrong is headed into treatment for substance abuse, a rep for the singer told the Associated Press.
A statement issued on behalf of Green Day also noted that the band's set was not cut short by the festival's host, Clear Channel, and apologised "to those they offended at the iHeartRadio Festival".
WARNING: NSFW. Video contains explicit language:
FAST GOSSIP
And finally...
* Fiona Apple talks to audience about her drug arrest.
* LMFAO is breaking up, sort of.
* Sharon Stone hospitalised in Italy after fashion show.
* Is there a Kanye West sex tape being shopped?
* Britney Spears' camp "livid" over Glee episode.
* "I wish I could take back every word" - Paris Hilton apologises for calling gay men "disgusting".
* Victims of Dark Knight Rises shooting sue cinema.
* Amanda Bynes charged for driving on suspended licence.
* Robbie Williams posts first snap of new baby daughter.
* Justin Timberlake in no rush to release a new album.
Follow Myrddin Gwynedd on Twitter.
- Rumour Has It