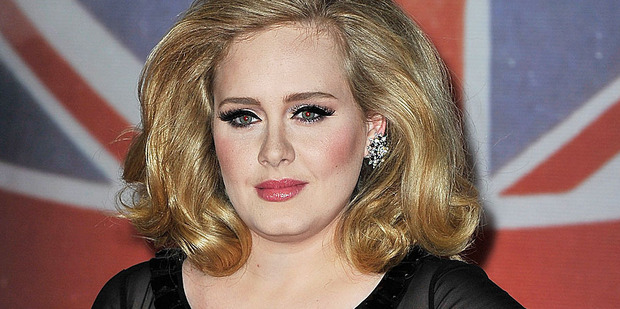 Update: Adele has responded to the rumours that she secretly married boyfriend and baby daddy Simon Konecki.
"I'm not married...Zzzzzzz," she tweeted on Thursday.
Love it. All that tweet is missing is a huffy *eyeroll*.
Rumour had it: She's been off the radar since announcing her pregnancy in June, but soul chanteuse Adele was recently snapped for the first time with a burgeoning baby bump - and a possible wedding ring.
Life & Style magazine has the first photographs of the 24-year-old British chart-topper and her sizable bump out and about in London on July 30.
The snaps published in the mag show the star shopping for antiques wearing a long flowing black outfit.
"Adele was relaxed and calm, and she and Simon looked really great together," an eyewitness told the mag. "She seemed very, very happy. She absolutely does have a pregnancy glow."
And it's not just the Someone Like You singer's baby bump that's generating buzz.
The mother-to-be was also snapped sporting a gold band on her ring finger, sparking rumours that she and boyfriend Simon Konecki may have already tied the knot in secret.
A source is quoted as telling the mag: "Adele and Simon managed to keep the baby news a secret for so long that there are rumours they've already gotten married, too.
"She's an old-fashioned girl and can't wait to be part of a family unit. She just wants to focus on the baby and the man she loves."
'They did get married...'
The Daily Mail also reports that a source close to Adele has 'confirmed' that the singer got hitched in secret.
"They did get married, and I was present. It was a fabulous occasion," said the source.
"Adele was dressed in a classic attire and Simon looked very smart and joyous."
So is she married? While there's been no official word from her rep, Marc Shapiro, author of Adele: The Biography, says he "wouldn't be surprised" if she'd tied the knot on the down-low.
"It wouldn't surprise me if she were already married. My gut would tell me that's what she'd do," he told the Mirror newspaper.
"Her parents weren't married, but Adele is very family-oriented."
The singer dished to Vogue earlier this year that she considered herself good wife material.
"Come on! I'm wifey material! I'm great. No one's got to be brave," she shared.
"It's not like, 'You f*** me over and I'm going to write a record and make you the most hated man in the world.' I am never writing a breakup record again, by the way."
She added: "I'm done with being a bitter witch."
The star also credited her boyfriend for helping her get through throat surgery last year.
She gushed: "He's wonderful. And he's proud of me, but he doesn't care about what I do or what other people think.
"He looks after me. I don't think I would have gotten through the recovery for my surgery if it hadn't been for him."
Adele has been dating charity entrepreneur Konecki since last December.
'I'm delighted to announce...'
The singer announced her pregnancy via a post on her official blog on June 29.
"I'm delighted to announce that Simon and I are expecting our first child together," she wrote. "I wanted you to hear the news direct from me, obviously we're over the moon and very excited but please respect our privacy at this precious time."
The singer did not give any indication of how far along in her pregnancy she was, but a recent report suggested she could be giving birth in September.
"Adele has barely left the house in recent months, so she could keep this to herself for as long as possible," a so-called insider told Heat magazine.
Baby daddy-to-be Konecki also recently hinted that the couple could be expecting a delivery sooner than we all expected.
"The baby is coming so soon," he told the Daily Mail. "I'm very excited. Adele is doing well and we can't wait."
Watch this space...
Fast gossip
And finally...
* Here comes the bride? Kim Kardashian dons a white wedding dress.
* John Mayer reportedly dumped Katy Perry via email. Hang on a mo, Perry...is that you?
* Twilight executives want Robert Pattinson and Kristen Stewart to reunite.
* Kim Kardashian's onetime husband denies giving lawsuit-filing woman herpes.
* Lady Gaga jokingly accuses Lindsay Lohan of stealing her jewellery, disses Madonna?
* Matthew McConaughey looks more gaunt than ever for new movie role.
* Heidi Klum and Seal's divorce Is reportedly getting nasty.
* Demi Moore offered $2m advance for 'blockbuster' tell-all about Kutcher marriage?
* Leonardo DiCaprio to go full frontal in next film.
* Michael Douglas to play Ronald Reagan in indie flick.
* Book the church: Russell Brand spends three hours at rumoured new girl Geri Halliwell's pad.
* Taylor Swift: "Love is a complete mystery".
* Bill and Giuliana Rancic welcome a baby boy.
* It's official: MTV pulls the plug on Jersey Shore.
* The Queen rolls in a Range Rover...rocking a hoodie.
*****
Dear readers,
After five years of purveying the good stuff from this delectable little corner of cyberspace, it's time for a change.
Blogger Bites Back has officially left the building.
Ladies and gents, prick up your ears and arouse a warm welcome for Rumour Has It, this column's new nom de plume.
Stick it in your bookmarks, folks, and strap yourselves in.
Cheers, and diolch yn fawr!
Follow Myrddin Gwynedd on Twitter.
- Rumour Has It