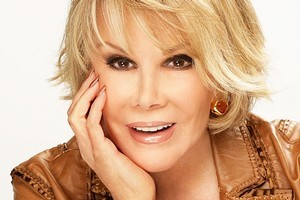 The claws are out: Scalpel-tongued comedienne Joan Rivers has launched a scathing attack on talk show host Chelsea Handler over comments she made during a recent radio interview.
It's no secret that there's no love lost between the comediennes, and they've been taking public jabs at each other for years.
And it all kicked off again this week when Handler dropped by Howard Stern's Sirius XM show on Monday.
"Joan Rivers? What the f**k do I care about Joan Rivers? I don't think about her ever," Handler told Stern.
The E! late night host then went on to relay an incident at a network event where Rivers made a speech and had a pop at Handler and her new stage, which she inherited from Conan O'Brien.
"Joan Rivers gets up and she's like, 'I'd like to thank Chelsea Handler for giving me a career in comedy and congratulations on your stage Chelsea because I don't even have a dressing room," she explained. "And I'm like, 'f*** off!'"
Never one to pull her punches, Rivers stopped by the show the following day with her daughter Melissa and fired right back at Handler. And then some.
"Number one, the girl made it on her back f***ing the president, we all know that, of the network," she barked. "Number two, she's fine, she's ordinary. She's not a genius."
She continued: "She's an ordinary girl that was f*****g somebody high up in the industry and they gave her a break and she's doing okay."
"Whatever she is, she's a drunk. I don't wish her good luck, I don't wish her bad luck. I don't care," said the Fashion Police star.
"I don't think she's particularly funny," she concluded, before firing a parting shot, "Don't you come after me, you wh**e!"
Holy moly, Joan, tell us how you really feel!
Rivers later spoke to The Huffington Post's Rob Shuter about the feud.
"I don't know her but the few times we've met she's been very grand and very happy to be Chelsea," she said. "I mean come on, you're lucky you've got a mouth. I just don't like people who think they're terrific."
Check out their interviews below (Warning: contains strong language):
And while on the show, Handler also spilled on her past relationship with rapper 50 Cent, as well as having a pop at Mariah Carey.
"Anyone who's married to Mariah Carey I'm sure doesn't have a great sense of humour. She's ridiculous. What is her game plan? What kind of person operates like that?" Handler told Stern.
"She's worse than like Elizabeth Taylor. She's just so ridiculous with her body. You see her one day and she's 50 pounds heavier or light ... there's nothing real about her and her Hello Kitty or whatever."
Carey's hubby Nick Cannon, who got into a Twitter war with Handler in 2010, later slated the comedienne for her remarks.
"I hear @ChelseaHandler is out there talking s**t about my wife again! She's lucky I'm trying to live right now! Jesus my cup runneth over," he wrote on Twitter.
"I think @ChelseaHandler is still bitter that she got blasted on my radio show! It's okay I still love you! When miserable people see happiness they must attack it. You know me, I'm always up for a good joke or wise crack but when people talk about my family the 'Hood' in me wants to come out!"
Cannon added: "I've learned cooler heads prevail. Life is too short to focus on negativity!"
Over to you, Handler ...
- Blogger Bites Back