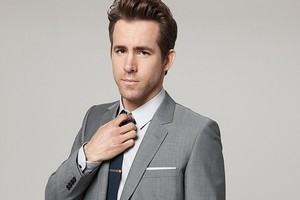 It's game on for new lovebirds Blake Lively and Ryan Reynolds.
Although the Green Lantern co-stars have yet to confirm they're a couple, they've sealed the deal with the ultimate clincher - public displays of affection.
The two were first romantically linked earlier this year following the Gossip Girl star's split from Leonardo DiCaprio. Since then, we've had reports of on-location hook-ups, "doggie dates" with their respective pooches in tow, and sleepovers at Reynolds' Boston bolthole.
People magazine reported the couple was spotted on an "old-fashioned date" in Ridgefield, Connecticut on Friday night.
The two were spied holding hands and sharing ice cream out of the same cup at Deborah Ann's Sweet Shoppe, according to the mag.
"They tried a few samples of ice cream off those little spoons. They picked their own flavours - English Toffee and Chocolate Fudge Brownie - but put them in the same cup and shared it," said a spy.
"They left holding hands. They just blended in. They seemed very happy together. They were very excited about the ice cream," they added.
Reynolds, 35, and Lively, 24, were also spotted wandering around town in Connecticut at the annual Ridgfield Downtown Holiday Stroll, according to RadarOnline.
"They looked like a regular couple and they were really cute when they would check out stores and smile at each other," said another spy.
So far, so 'I see the smoke, but where's the fire?' Well, gird your loins, folks, the Mail Online has got its mitts on some pictorial evidence that proves the romance between the two is heating up nicely.
Check out the lingering looks, lip-locking, and passionate embraces here.
Love the Mail's detailed narrative that accompanies the snappy action, too - Barbara Cartland would be proud.
Meanwhile... Livey was snapped high-tailing it from Reynolds' Boston apartment on Monday morning. Clutching a pillow, the starlet obviously had some shut-eye to catch up on after her romantic weekend.
Reynolds recently divorced from wife of nearly two years, Scarlett Johansson, who has just this week flipped open the ex files and dished on their doomed marriage in the January issue of Cosmopolitan.
The actress told Cosmo that marrying Reynolds was "the best thing I ever did."
"I'm a big believer that when something feels right, you should do it," she added. "I'm a big believer in instinct. Getting married was the right thing to do because it was natural. It grew out of a romance and love and a desire to have a future with somebody, and I was very fortunate that I married somebody who turned out to be the person I thought he would be."
The couple got hitched in 2008, and divorced in July 2011.
"Relationships are complicated. Being married is a living, breathing process," she mused.
"I think I was not fully aware of the peaks and the valleys. I wasn't prepared to hunker down and do the work.
"Both of us were extremely busy. We spent so much time apart. It's very difficult."
So what does Johansson think of her ex-hubby's romantic shenanigans? Green with envy, apparently.
"Scarlett is pissed that he's not under her spell anymore," a snitch told Us Weekly. "She realised what a great catch Ryan was."
Oops!
- Blogger Bites Back