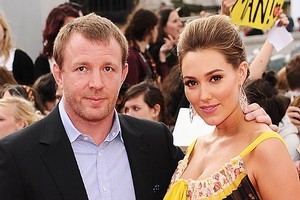 British director Guy Ritchie has opened up about his failed marriage to pop matriarch Madonna.
In an interview published in the December/January issue of Details magazine, the Sherlock Holmes helmer reveals that while being married to the Material Girl was no walk in the park, he doesn't regret their union.
Madge, 53, who once famously quipped that she "wouldn't wish being Mr Madonna on anybody," tied the knot with Ritchie during a lavish ceremony at Skibo Castle in Scotland in 2000.
They announced their split in October 2008, before divorcing later that year, citing irreconcilable differences.
"I enjoyed my first marriage. It's definitely not something I regret. The experience was ultimately very positive," Ritchie, 43, tells the mag.
"I love the kids that came out of it, and I could see no other route to take.
"But you move on, don't you?"
The couple had two children together - biological son Rocco, 11, and adopted son David Banda, six.
Ritchie then waxes on their whirlwind union, and expands on being 'Mr Madonna'.
"You're right, I stepped into a soap opera, and I lived in it for quite a long period of my life," says Ritchie, adding, "I'll probably be more eloquent on it 10 years from now."
Asked what he learned from the marriage, Ritchie reveals: "When you end up with a lot of the things you set out to chase and find that you've stumbled into all sorts of hollow victories, then you become deeply philosophical.
"I'm quite happy that that experience was accelerated for me. I'm glad I made money, in other words," he says. "And I'm glad I got married."
Ritchie welcomed a son with new love Jacqui Ainsley in September. But don't look to the Cockney geezer for any parenting tips.
"I'm f***ing glad no one gave me too much advice. You've got to work it out for yourself," he says. "And I am anti people putting so much pressure on kids and robbing their childhood by giving them so much homework. I think if kids want to arse around, then they should."
Madge has also moved on. She infamously hooked up with whippersnapper and Brazilian model Jesus Luz, 24, post-divorce. Their relationship set tongues wagging and garnered column inches after their naughty no-holds-barred photo spread (slighty NSFW) in W mag in 2009.
But Madge's dalliance with her toyboy lover was short-lived. He ditched her in February 2010 - because they "had nothing in common". No comment from the peanut gallery.
"It was not only totally amicable, but it was Luz who initiated the split," a mole told the Chicago Sun-Times at the time.
"The problem is as simple as it is obvious - it's the age difference.
"How long could it last? How it even lasted a year seems a miracle to a lot of people.
"They are in such different places in their lives. They both benefited, but it's pretty much over now.
"Or as Madonna told me, 'We've just run out of things to talk about. It's really pushing it for us to have common ground these days. We have Kabbalah, that's about it'."
The Vogue singer is currently dating French dancer Brahim Zaibat, who also chimes in at 24. And if their recently-snapped love-in is anything to go by, she's hooked, line and sinker.
Phwoar, give us a kiss!
- Blogger Bites Back