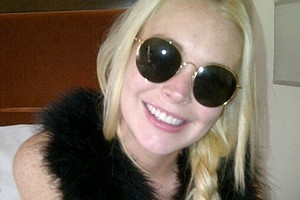 Walking tabloid Lindsay Lohan finally has something to smile about.
Days after she was snapped sporting a set of not-so-pearly whites and grubby mitts on a red carpet in Los Angeles last week, the 25-year-old starlet has had her chompers fixed.
The Mean Girls star tweeted a snap of her shiny whites over the weekend, with a special thank you note to her dentist.
"Thanks Dr Dorfman for the zoom ... My gums are so sore though!" she wrote.
Ah, what a difference a scale, polish and blast of bleach can make.
Meanwhile, the wayward one - who'll soon be wearing just a smile in an upcoming Playboy spread - let her hair down over the weekend and rocked up at Playboy honcho Hugh Hefner's Halloween party.
Lohan slipped into her saucy French maid outfit and happily posed with other revellers - including a bloke in orange prison fatigues (awkward) at Hef's Hollywood mansion.
But it's not all fun and games on planet Lohan. The actress, who's spent the past two weeks on morgue duty, is due back in court for a status update with Los Angeles Judge Stephanie Sautner on Wednesday (Thursday NZ time).
Sautner will decide whether LiLo violated the terms of her probation after she was booted out of her court-ordered community service programme at the Downtown Women's Shelter for homeless women.
Rumour has it that her legal rep, Shawn Holley, hopes to convince Sautner that LiLo is a changed woman and has turned over a new leaf. The ammo? The fact that LiLo's clocked in 24 hours of service at the morgue (she was only required to do 16 hours), reports TMZ.
She'll also plead no contest to violating her probation, in the hopes that the judge will show her some mercy, reports the website.
"Lindsay has been very diligent in her attendance at the morgue, and is there again today," her publicist, Steve Honig, said in a statement.
"She is very eager to get closure on this situation so she can put it behind her and move forward with several projects currently being lined up for her."
He added: "This has all just gone too far on so many levels, and it just needs to end, and Lindsay recognises that.
"Lindsay has several projects we're going to be announcing over the coming months, and she really wants to put this all behind her and get on with doing what she does best, which is acting."
Lohan faces the very real prospect of jail time if the judge throws the book at her, but sources tell TMZ she's hoping for the two-week minimal sentence - which would be reduced further due to overcrowding.
Will she go down, or will she avoid the big house by the skin of her teeth?
Stay tuned...
- Blogger Bites Back