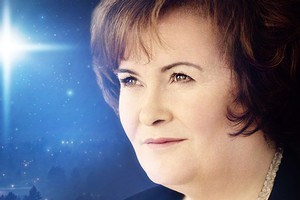 It's here: Susan Boyle has debuted her rendition of Depeche Mode's classic Enjoy The Silence.
The Britain's Got Talent star takes on the synthpop group's enduring hit on her forthcoming third album, Someone to Watch Over Me, set for release in early November.
Boyle delivers a haunting take on the 1990 track, which has been stripped back and slowed right down, while showcasing the 50-year-old Scot's ballad-friendly vocals.
"The melody of the song is just beautiful," Boyle told Rolling Stone, "but really that lyric sounds like it will touch so many people in the way it touched me."
Listen to Boyle's take on the track below:
Check out the original version by Depeche Mode:
What do you think of Boyle's version?
Meanwhile, prepare to see Boyle as you've never seen her before.
Boyle is set to be given the Big Fat Gypsy Wedding treatment in a new television documentary, it has been revealed.
The singer has opened up her doors to award-winning director Osca Humphreys who helmed the successful My Big Fat Gypsy Wedding TV show.
The doco, Susan Boyle: An Unlikely Superstar, will include footage of Boyle meeting Simon Cowell, working on her new album, and throwing the odd tantrum or two, reports The Sun.
Said a mole: "It's real no-holds barred stuff and shows all sides of SuBo, including her grumpy moments.
"Even those close to Susan have been shocked at how honest the footage is.
"Production company Firecracker brought back Osca Humphreys - the director of the original My Big Fat Gypsy Wedding show - to follow the singer around for the past three months.
"And he's captured some cracking footage."
The doco will air in the UK next month. No word on whether it will be seen by a worldwide audience yet.
Russell Brand's Canadian border joke
Is Russell Brand's world really getting smaller by the day?
The Brit comic was forced to postpone a show in Canada over the weekend after border officials refused him entry into the country. Well, that's one interpretation of events at least.
Brand had been expected to perform in front of 5000 people at the Casino Rama in Ontario on Saturday night, but the venue said the show had been "postponed due to a travel issue being experienced by the artist".
The star tweeted: "HELP! I'm gonna be late for Casino Rama show unless someone can force Canadian customs officials to let us land in Orillia!" while seemingly still in the air en route to the show.
He cheekily added: "How do you manipulate customs officials? Wasn't Hitler's father a customs officer? I'm pretty sure he was.
"Let me in! I must perform at Casino Rama, Orillia tonight at 9 for 5,000 Canadians."
And then, just hours before he was due on stage, Brand (@rustyrockets) wrote: "Tonight's Casino Rama show postponed. I'm sorry. I can't enter Canada. We must abolish the borders between our nations AND our minds."
But wait ... it turns out it was all a gag.
A spokesperson for Casino Rama later hopped on Twitter to explain, confirming that Brand's airplane actually never left the runway at Los Angeles.
"Ok all, let's be clear, @rustyrockets is still in Cali, he never left, he has no immigration or border issue, it was a tech issue with plane!"
Spokeswoman Jenna Hunter told The Canadian Press that Brand wasn't able to get a replacement plane to make the gig.
"I think he's trying to be witty about the whole thing, but it really was just a plane issue, it wasn't a customs issue at all," Hunter said.
A spokesman for the Public Safety Minister also confirmed to CBC News that Brand had not been barred from entering Canada by customs officials.
"Apparently he had aircraft problems and was making a joke," the spokesperson said.
Oh, LOL! *Crickets*
In May, the Arthur star was deported from Japan because of his criminal record. His wife, pop songbird Katy Perry, tweeted: "It was for priors from over 10 years ago."
Desperately seeking...
Britney Spears is on the hunt for her No. 1 fan - a homeless chap with a penchant for the pop princess' tunes, and a public display of desire to bag himself the hitmaker's latest CD.
The Femme Fatale singer took to her Twitter page on Monday with a quest for her legions of followers. She linked to a snap of a chap holding a piece of cardboard, reading: "Need to get new Britney Spears CD. Anything will help. God bless."
Spears then wrote: "If anyone can find this gentleman I've got a package with my entire catalog [sic] with his name on it.... -Britney"
Bless Brit Brit. Hopefully that stash she's gifting him comes with a personal CD player. Batteries included.
Becks blows a gasket
Soccer stud David Beckham: You won't like him when he's angry.
Becks lost his cool during LA Galaxy's win over Real Salt Lake at the Home Depot stadium over the weekend, reports the Daily Mail.
Witnessed by his three sons, Brooklyn, 12 , nine-year-old Romeo and Cruz, six, Becks exchanged "sharp words with Real's manager, Jason Kreis," according to the Mail. And it was all caught on candid camera.
Whatever went down on the pitch, it brought out Goldenballs' wild side. So wild, he hitched up his shorts in protest and gave himself an eye-watering wedgie.
Ooh err, missus.
Mind you, I'd be spitting tacks if the elastic went on my man pants, too.
Blogger's Briefs
* Smitten kitten: Kate Winslet says she's found "The One", according to her loose-lipped pals. Several reports claim that the 35-year-old actress has bagged herself a Branson - the tycoon's nephew, Ned Abel Smith (who changed his name by deed poll to RocknRoll) no less.
* Martha Stewart's daughter writes tell-all, spills juicy details about childhood with the domestic goddess. "Martha does everything better! You can't win!" Alexis, 46, writes of her mother, 70. "If I didn't do something perfectly, I had to do it again. I grew up with a glue gun pointed at my head." Happy families.
* Amy Winehouse, Reg Traviss 'were planning wedding'. Late singer's grieving boyfriend reveals the pair had plans to get hitched before her death in July.
* Gun for hire: Mark Wahlberg hops back into the action pen and stars in new thriller, Contraband, co-starring Kate Beckinsale. Wahlberg plays Chris Farraday, a family man who turned his back on a life of crime, only to be lured back when his brother-in-law botches up a drug deal. Contraband hits in early 2012.
- Blogger Bites Back