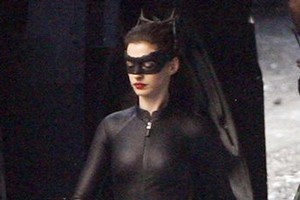 Newly published paparazzi pics have given fans a full glimpse of Anne Hathaway's much anticipated Catwoman costume in the new Batman movie.
The latest set of snaps, taken on the Los Angeles set of the still-in-production The Dark Knight Rises, further reveal director Christopher Nolan's take on Batman's feline adversary.
Initial official photos of Oscar-nominated Hathaway in full regalia as her Selina Kyle alter-ego had fanboys and purists in a spin: Where are Catwoman's ears? Her mask? And what's with the fancy eyewear?
Hathaway herself later addressed the ruckus, assuring fans that there was far more to the costume that meets the eye.
She told MTV News in August: "I was not going to admit it: I asked someone to send me a few reactions [to the photo]," she said.
"And I happen to know that MTV's reaction was 'meh'."
Hathaway added: "What I am happy to say is, if you didn't like the photo, you only see about a 10th of what that suit can do. And if you did like the photo, you have excellent taste."
New pap snaps of a svelte Hathaway in her skin-tight leather on the LA set of the flick would suggest that fans can breathe easy.
Catwoman's ensemble does appear to include a pair of those all-important kitty ears. Or as some have suggested, her signature protrusions could be created when she flips her night vision goggles atop her head.
The rest of the costume is made up of an eye mask, utility belt and a pair of thigh-high leather stiletto boots.
Check out the on-set snaps here and here.
The 29-year-old actress recently spoke about getting in shape for the role: "I'm a vegetarian and right now, I'm living on kale and dust for the training. That catsuit's unforgiving," she said.
"There's a workout hump where you're so weak that you hate everything, everything is so painful and you look like an idiot.
"The gym where I work out, I was literally working out next to a pregnant Jessica Alba and she could do more push-ups than I could. I've now just started to do Bikram yoga."
The Dark Knight Rises is released on July 20, 2012.
Check out The Dark Knight Rises official trailer:
What do you think of the new Catwoman incarnation?
- Blogger Bites Back