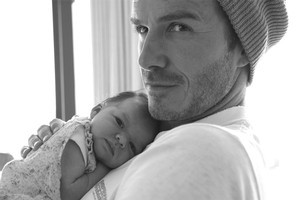 Ready for her close-up: Proud mum Victoria Beckham has shared a new photo of her husband David and their newborn daughter, Harper Seven.
The former Spice Girl shared the gorgeous black and white shot of her soccer stud hubby cuddling their four-week-old daughter on Twitter on Sunday.
Lady B wrote, "I took this beautiful picture and wanted to share it with you, baby Harper cuddling Daddy! x VB," while linking to the above photo.
David, 36, and Victoria, 37, welcomed their first daughter to their brood of three boys, Brooklyn, 12, Romeo, 8, and Cruz, 6, on July 10.
The A-list couple haven't been shy about using social media to share snaps of their newest family addition.
"Baby Harper is the most beautiful baby girl I have ever seen," tweeted Victoria a few days after giving birth in Los Angeles. "I have fallen in love all over again!!!
"We all feel so blessed and the boys love their baby sister so much!!!" she gushed.
The couple then took turns posing with their daughter. David posted a shot of Victoria and Harper on Facebook last month. While Victoria took to Twitter and shared a snap of her hubby rubbing noses with the wee baby girl, captioned "Daddy's little girl!"
Awwwwwww!
Meanwhile, David has revealed his latest ink - a new tattoo in honour of baby Harper.
The soccer star debuted the tattoo as he walked off the pitch (shirtless, naturally) at the end of his LA Galaxy team's 3-1 win over FC Dallas on Saturday.
Proud papa David's inking sits along his left collar bone, just above his tattoo of Jesus being carried by three cherubs - which represent his three sons.
David explained the meaning of that particular tattoo in a video on his Facebook page in February.
He said: "It's Jesus being carried by three cherubs. Obviously the cherubs are boys.
"My thought of it is at some time my boys are going to need to look after me and that's what they're doing in the picture.
"Everything has got a meaning that I have got on me."
Check out David's new ink here.
Speaking of bambinos...
Ethan Hawke and his wife, Ryan Shawhughes, have added to their brood. The couple welcomed their second child two weeks ago, a daughter, India, reports the New York Post.
Little Indiana joins big sister Clementine, 3.
The pair, who tied the knot in 2008, were spotted with their new arrival on Sunday in New York City.
"He was introducing the kid to the other people at his table and staff and other people in the restaurant," says a spy.
Congrats, darlings!
Desperate Housewives to end
It's official: Long-running ABC show Desperate Housewives will end after its upcoming eight season, it has been announced.
Show creator Marc Cherry confirmed the news at the Television Critics Association Summer Session in Beverly Hills on Sunday.
"I think the only thing harder than creating a great show is knowing when to end it," he said. "It's something that's weighed on my mind for quite a while now.
"I'm very aware of [shows] overstaying their welcome," he added.
"I just didn't want that to happen to Desperate Housewives. I wanted to go out as the network still saw us as a viable show and a force to be contended with. I wanted to go out in the classiest way possible."
Cherry said he'd spoken to about half of the cast about the decision to axe the show.
"It was bittersweet and lovely," he said. "The women [Eva Longoria, Felicity Huffman, Marcia Cross and Teri Hatcher] knew it was a possibility. There was a touch of shock but not completely."
As for the final season, Cherry says the show will be going back to its roots - by revisiting the suicide of Mary Alice.
"We're going back to the roots of Mary Alice," he said. "This feels right for the mystery that will take us out this year."
He also said the finale "will pay homage" to past and present cast members.
I wonder if the homage will include Nicollette Sheridan, who played Edie Britt? Sheridan filed a battery and wrongful termination lawsuit against ABC and Cherry in 2010. An on-set reunion could be interesting.
Asked if Sheridan will return, Cherry said, "I have an idea for the last episode in which I want to pay homage to everyone who's been on the show."
Are you sad that DH is ending?
Blogger's Briefs
This juicy lot just in...
* Noooooooooo! Justin Bieber and Selena Gomez split?
* Simon Cowell still banging on about why Cheryl Cole was fired from X Factor
* Brangelina relationship in turmoil over adoption plans rumour No 6,000,001
* Beam him up: Prince Harry 'wants to be first royal in space'
* Scarlett Johansson & Ryan Reynolds: She wants him back. Join the queue.
* Mel Gibson, estranged wife Robyn reunite for good cause
* It's raining men in J-Lo's universe
* Horrible boss? Lauryn Hill accused of verbally abusing band members
* Here kitty, kitty! First look at Anne Hathaway as Catwoman in The Dark Knight Rises.
* Madonna: Back in the studio with William Orbit?
* Jessica Simpson continues to fuel baby-bump buzz
Blogger Bites Back
Please vote for this blog in this year's NetGuide Awards. Click on this link, and paste this link in the 'Best Blog' box:
nzherald.co.nz/blogger-bites-back/news/headlines.cfm?c_id=1501366
Diolch yn fawr!